RISE will crown the inaugural Women's Bantamweight champion in May.
Another women's weight class will see light in RISE on May 28, as the promotion has officially announced that a four-woman Bantamweight (55 KG) tournament will be held at RISE 168, with the tournament winner being crowned the inaugural champion. Bantamweight will represent their fourth women's weight class: Atomweight (46 KG) and Mini Flyweight (49 KG) were established in 2019, while Flyweight (52 KG) got off the ground in 2021.
The first of the two semifinal bouts will pit TEAM TEPPEN product Yuka Murakami against the TRY HARD representative KOKOZ.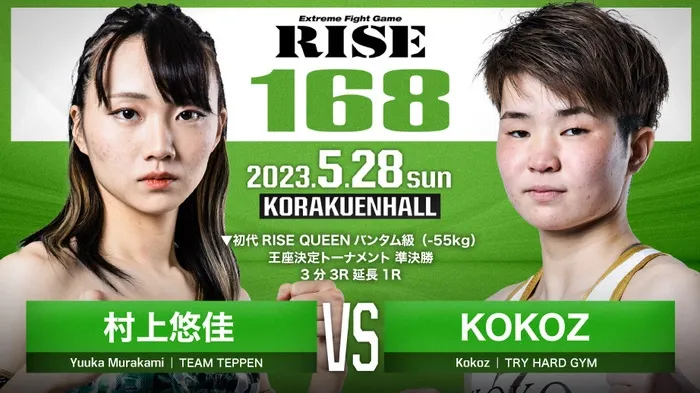 Murakami transitioned to the sport of kickboxing in 2019, after spending her childhood and teenage years in Kyokushin Karate, and amassed an 8-3 professional record over the next four years. Moreover, two of her three losses came at the hands of Haruka Asai, which might be excused as a bad style match-up. Together with the fact that she holds victories over two other tournament participants, Seina and Yura Kamiya, Murakami will rightfully be seen as the strong favorite to become the first-ever RISE bantamweight champion.
KOKOZ holds a much humbler 7-6 record, but likewise has a win over the aforementioned Seina, although she's lost both of the fights she's had since then. She does have more high level experience than Murakami, having faced two other RISE champions in Manazo Kobayashi and Hinata Terayama, giving both them a tough fight. A KOKOZ victory would nonetheless be seen as a slight upset.
On the other side of the one-night tournament bracket, Seina will face former full-contact karate practitioner Yura Kamiya.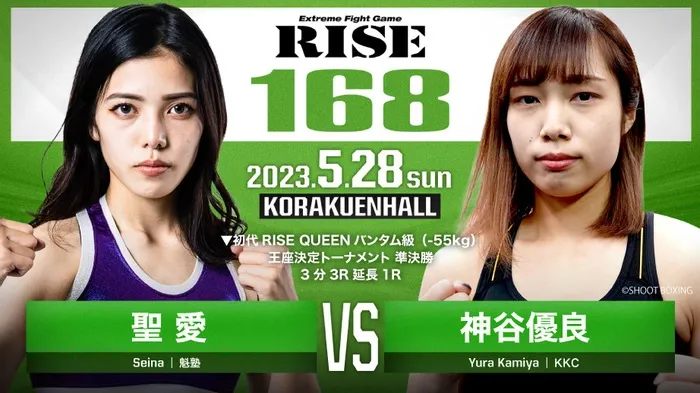 Seina was quite an interesting talent once she began her career, having captured a few regional titles and having amassed a 9 – 1 – 2 outside of RISE. The Osaka native has failed to achieve the same heights in her new home, with wins in only one of the five fights she's had with the promotion. Her previous success was enough to earn her a tournament spot, as well as a chance at redemption, as she'll find herself in a rematch against either Murakami or KOKOZ in the finals.
Yura Kamiya was a relatively successful karateka prior to transitioning to kickboxing. The 24-year old finished as the runner-up in the Kyokushin World Federation Middleweight event and in the third place in the Light Heavyweight event of the All Japan Full Contact Karate championships. Despite her previous karate success, Kamiya triumphed just once in her four professional kickboxing outings, against Yuzu Kitagawa in December of 2021. Considering this will be her RISE debut and her lack of experience in the sport, Kamiya will most certainly be the biggest tournament underdog.