The Krusher Queen spent the year solidifying her grasp on the division in 2022.
The reigning K-1 women's Flyweight champion Kana Morimoto returned to professional competition with a bang, reminding kickboxing fans why she's considered one of the best fighters in the world.
In her final bout of 2020, Morimoto suffered an upset decision loss to Kotomi, which snapped her four-fight win streak. She would spend the next fifteen months without a single fight, as she prepared to avenge this loss, just as she avenged her previous two losses to Mellony Geugjes and Josefine Lindgren Knutsson. The pair was booked to face each other for the second time in February of this year, but the fight would eventually fall through, as Kotomi withdrew from the bout and was subsequently replaced by RAN, whom Morimoto beat by unanimous decision.
While overcoming such as an over-matched opponent wouldn't even put her into consideration for the 'Fighter of the Year' award, her next two triumphs would more than earn her this accolade. In June, Morimoto dominated and knocked out Souris Manfredi, a power puncher who had captured the World Lethwei Championship title and had standout success in Muay Thai before that. A brutal performance, that saw KANA knocking down Manfredi multiple times before finishing her with a vicious high kick.
Six months later, Morimoto knocked out the former Enfusion -52 kilogram champion Aurore Dos Santos in the first round, which ended the Frenchwoman's five-fight win streak.
Not only did Morimoto not lose a single round this year, she's dominated every single minute and second she's fought in 2022. RAN, Manfredi and Dos Santos were all left looking like deer in headlights, without any idea on how to deal with with Morimoto's power and athleticism.
HONOURABLE MENTIONS
---
KOYUKI MIYAZAKI
The RISE Atomweight champion went on a perfect 4-0 run this year. She overcame a crafty veteran in Momoka, a power puncher in Arina Kobayashi and a solid Muay Thai stylist in Petloolaon Sarigym. What had Miyazaki in the running for 'Fighter of the Year' however, was her victory over the Shootboxing Japan Atomweight champion MISAKI, which left her as the clear #1 fighter in the world at 49 kilograms. Despite not claiming the award this year, as she had in 2021, Miyazaki has already established herself as a pound-for-pound fighter at just 19 years old.
SAREL DE JONG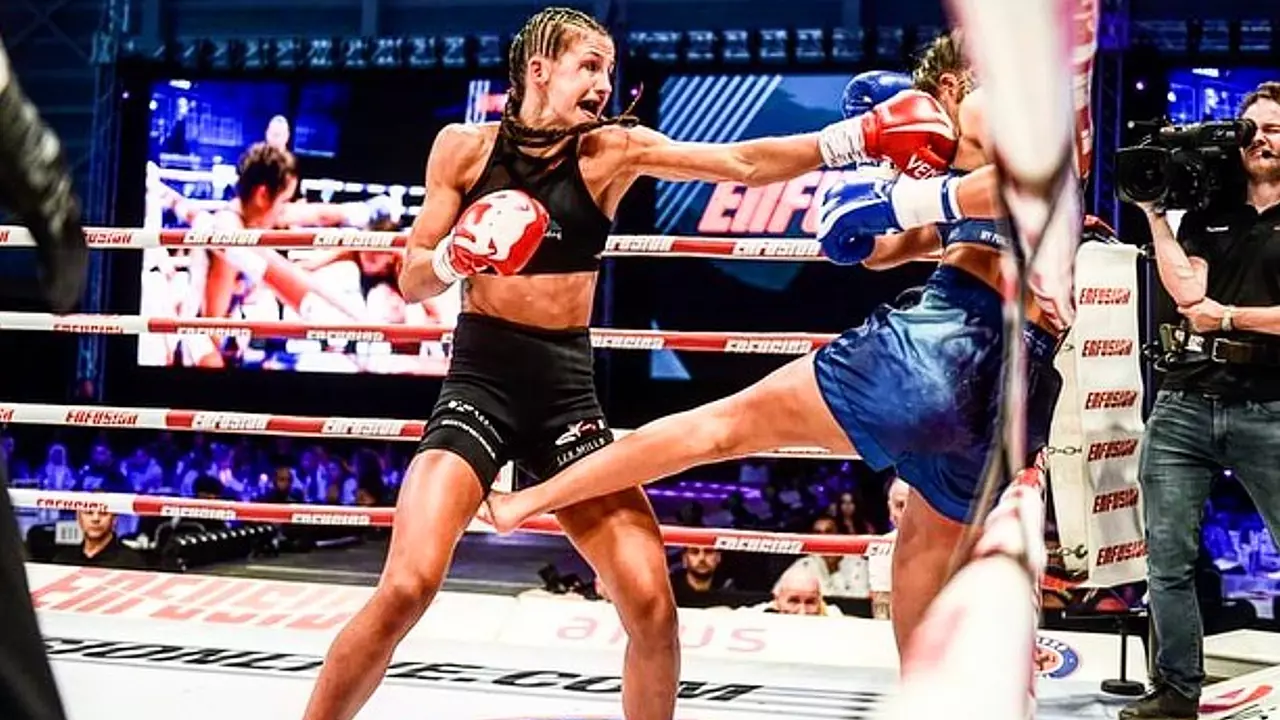 De Jong spent the past 12 months dominating the Bantamweight division, extending her win streak to 10 fights, spread over the course of the past three years. While her victories over Maria Tsiplostefanaki, Sofia Oliveira, Vitoria De Mauro and Laura Pileri were dominant, her strength of competition didn't quite measure up with Kana Morimoto's, which is why De Jong ended up as the runner-up, instead of as the winner. Nonetheless, she's looked unstoppable this year and it'll be interesting to see whether anyone in 2023 will be able to trouble her.