We're one week away from the high-profile clash between two of the sport's finest fighters.
Pound-for-pound king Chingiz Allazov will defend his ONE Featherweight Kickboxing title against Marat Grigorian on August 4 at ONE Fight Night 13. The two have history, as they fought twice already, over a decade ago. The first bout ended in a no-contest after an unintentional illegal elbow early in the bout. The second fight, just eight months later, ended in a unanimous decision for Grigorian.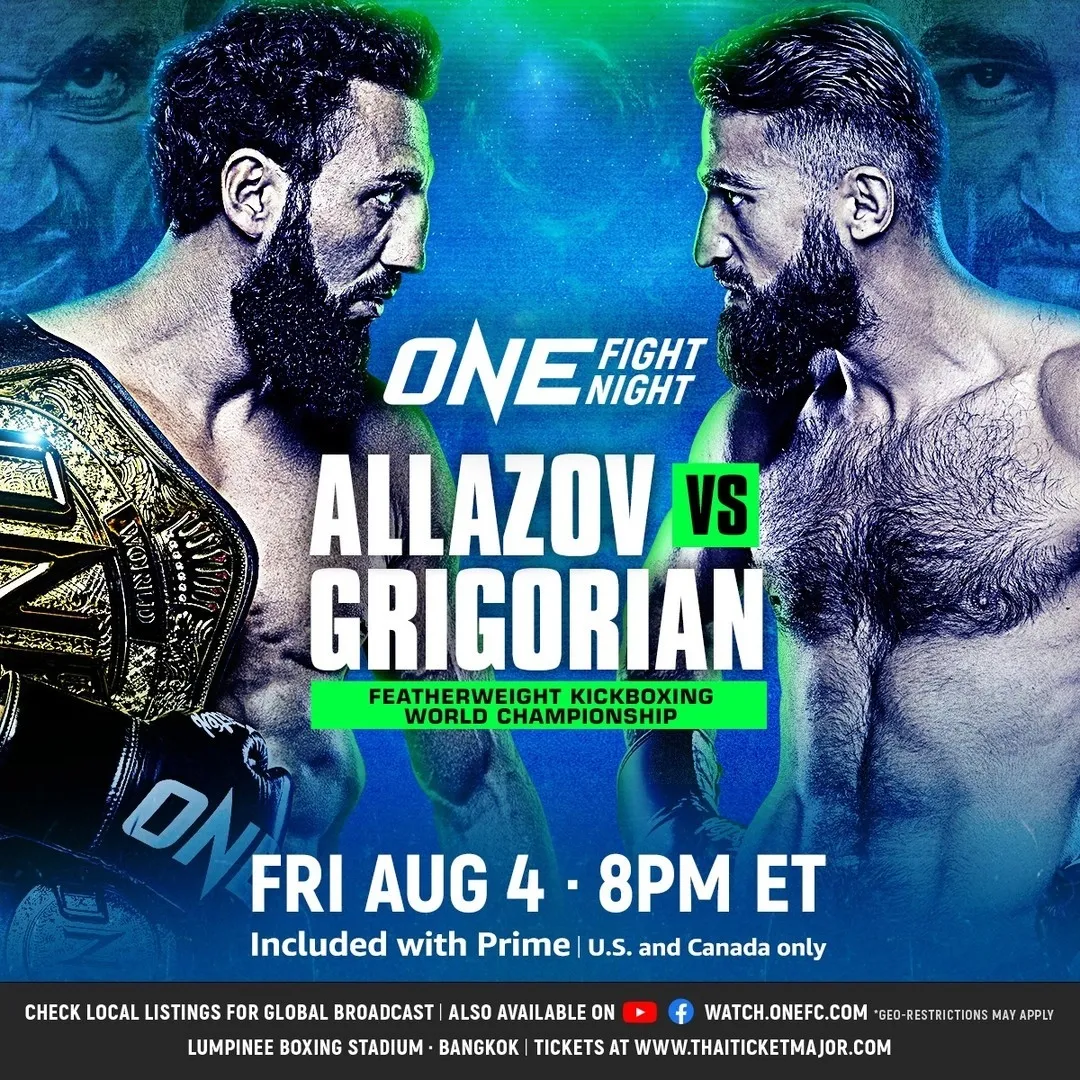 KEVIN
What a fight we have on our hands here! ONE's kickboxing divisions have been in a frustrating state as of late, but you can always count on them for putting on highly-anticipated marquee match-ups in their 70 KG division. Chingiz Allazov is king right now, and rightfully so. While many people will look at Allazov's recent dominant winning streak or at Grigorian's previous win over the Belarusian fighter and draw their conclusion based on that, I think the biggest factor will be the five round format. Despite Grigorian's reign as GLORY Lightweight champion only lasted two fights, it exemplified how much stronger he is in the championship rounds. Similar to someone like Regian Eersel, Grigorian shines through his constant pressure, the longer the fight goes on. The champion has been in exceptional shape in his last few fights, but I have a hard time imagining he will be able to keep up his usual pace for the full duration of the fight, especially when being put on the back foot.
Marat Grigorian by unanimous decision.
ALEX
I'm expecting an extremely competitive fight, and Marat Grigorian to be the new champion.
I think Chingiz Allazov is still very vulnerable to losing the kind of fight he had with Enriko Kehl. He's rangey, slick, offensively potent and blazingly fast - but if he's forced to have lots of exchanges quickly, or stay in an exchange too long, he'll get flustered. Beating Grigorian is a very different kind of challenge to beating Superbon or Sittichai.
Grigorian doesn't put out the same volume that Kehl does, but he does pressure insistently. Once within his range I think his heavy punch/kick combinations will find the mark and add up on Allazov. Grigorian is probably be durable enough to take some big shots in a way Superbon couldn't, and crafty enough to bring Allazov in his sights and crack him. It's very difficult to slow his roll in the ring, and he piles up attrition.
I think if Allazov were to commit heavily to controlling the fight from the outside, he might have a shot at outpointing Grigorian. His footwork and ranged weapons are excellent, and while he doesn't quite have Superbon's composure, he can definitely outmanoeuvre Grigorian regularly enough to matter. He's also never been stopped in his professional career and likely to be able to take significant punishment. I don't think that's how he'll want to play it, though: Allazov loves exchanges too much to consistently shut them down. He's effective and dangerous there, but I think Grigorian's staying power will undo him in the end.
Marat Grigorian by unanimous decision.
ULYSSE
Chingiz Allazov is the man to beat at the moment. Marat Grigorian is chasing what would be the defining win of his career, surely confident in his capacities as he already defeated the champion ten years ago.
Since that time Allazov evolved a lot, becoming more controlled, precise and crafty while retaining his explosivity, creativity and ferocious finishing instincts. Grigorian has remained roughly the same, intense pressure, Dutch style combinations, punishing low kicks and a one punch knockout power perfectly coupled with his ability to take one back with ease. He fought the elite of the division during those years, amassing invaluable experience and quite a few top wins.
I am slightly concerned Grigorian might have lost a few steps in the process as his durability was a key part of his success. His ONE Championship career has been rather unconvincing, he was dropped in his debut and for the first time in over a decade, later completely dominated by Superbon. Doubts appeared about his ability to display the level of intensity he showed during the peak of his GLORY and Kunlun run. Focusing too much on his hands and neglecting some of the low kicking that made his success as well as the sneaky high kicks he caught many opponents with, Allazov included. He showed encouraging signs in his last bout against Tayfun Ozcan as his patented low kick work proved to be essential to his victory once again despite a relatively low work rate by his standards.
On the other hand Allazov is peaking, scoring the best wins of his career back to back after a wonky ONE debut. I see his speed and distance management being superior to start the fight, dictating a lot of the exchanges and working intelligently around the tight high guard of Grigorian. Maybe even rocking him with well timed shots in close range at his own risks. He should overall outscore Marat but not without being hit back forcing him to move and expand a lot of energy which could be an issue for him past mid fight as shown in the Sitthichai bout.
If Marat can be the best version of himself on that night he'll have his opportunity, putting on a suffocating pace, forcing Allazov against the ropes, in the corners and capitalizing on potential overly flashy techniques from the champion. The five rounds format and the fight happening in a ring instead of a cage will help his usual stalking style as the bouncy champion will be easier to trap, making for a very compelling matchup.
That said, even in the case of Allazov fading in the championship rounds I expect him to be able to weather the storm and maintain his lead long enough to take a decision, successfully defending his title.
Chingiz Allazov by unanimous decision.
TIMOTHY
Chingiz Allazov against Marat Grigorian is a fascinating clash representing two entirely different styles of kickboxing. This is a meeting between the classic system style, of Grigorian, meeting a freestyle form of striking, with Allazov.
Chingiz Allazov has certain signatures, such as his combination punches into head kicks, which will be put to the test against a rock-solid Grigorian who prefers to keep a tight guard and strike with combinations on the inside at close range. Marat Grigorian is a fighter who will always return fire. If his opponent throws a punch, he'll answer with three. If his opponent throws a kick, he'll answer back with two.
To win this match, Marat must do what Enriko Kehl did to Allazov, control the center, stay aggressive, and push the kicker constantly to the back foot.
In this ONE Featherweight Kickboxing World Championship showdown it will be a test of initiative, who will control the fight from the opening bell, and who can maintain their game plan, and keep their composure until the fifth round.
Marat Grigorian by unanimous decision.
PETER
In ONE Championship, mainstay international kickboxers may not get the limelight compared to their Muay Thai peers, but in this rematch we're sure to see a lot of action between two strong punchers. Chingiz has looked somewhat untouchable lately, albeit against Muay Thai kick specialists who had issues with his unrelenting pace and wild varied striking. Marat typically maintains a disciplined high guard (at the expense of absorbing kicks) which should mitigate the brunt of Chingiz's offense. If Marat took notes from Enriko Kehl's somewhat surprising split decision win over Allazov, he should be able to weather the storm by putting his man on the back foot and eke out a decision, landing cleaner tighter punches.
Marat Grigorian by unanimous decision.
TRAVOR
The highly anticipated rematch between two of kickboxing's most exciting fighters in Chingiz Allazov and Marat Grigorian is almost upon us. And unlike most of the writers here, my prediction goes to Chingiz Allazov. However, I am in agreement that he is in for a rough night. Allazov will have to dig deep against Grigorian's relentless pressure. Even with the circumstances seeming to be to Grigorian's benefit: having one victory over Allazov, a favorable style matchup, and the fight being staged in a ring, Allazov has looked like the best kickboxer in the world as of late. He'll have to walk through fire, but Allazov will come out with his hand raised at the end.
Chingiz Allazov by unanimous decision.
WORADON
The fight will be in a ring, giving Marat an edge in this fight. I also think stylistically Marat matches up well with Chingiz. I believe that Chingiz will take the first round, but Marat will then put Chingiz on the defense and score near the ropes and corners. Marat might even knock Chingiz down.
Marat Grigorian by unanimous decision.
BORNA
A trilogy bout between two pound-for-pound ranked fighters, who've both grown tremendously since their first two meetings - all the way in 2013. That being said, those two fights do give some insight into how a third one might play out, especially as Grigorian has stayed more or less the same type of pressure fighter a decade later.
While Allazov was able to fight more or less evenly with Grigorian in both of the first rounds he's had with him, even pushing him back at times, he began to flag noticeably as the second fight went on. Considering Allazov had similar trouble with Enriko Kehl in his ONE debut (ring rust aside), that this contest will take place in a ring (where Marat's pressure will play a much bigger part than in a circular cage) and that this will be a five round championship bout (where Grigorian's better cardio will surely show itself), I believe we'll see a new champion being crowned by decision. If this does end up in a stoppage, I believe it's more likely to come from Allazov than Grigorian however.
Marat Grigorian by unanimous decision.
ANTHONY
A possible fight of the year contender between two guys at the top of, possibly, the most stacked Lightweight division in kickboxing history. The fight will be a long-awaited conclusion to a trilogy between former GLORY Lightweight king Marat Grigorian and current ONE Lightweight king Chingiz Allazov.
Allazov is on a historic streak right now, with wins over the highly technical southpaw kicker Sitthichai and Superbon, who was coming off of a phenomenal knockout win against kickboxing great Giorgio Petrosyan.
Grigorian is no slouch either, having beaten Allazov in their previous meeting via decision in France. Grigorian also had a fight of the year contender against fellow top Lightweight Tayfun Ozcan in a very closely contested match, where the decision was given to Marat through his heavier landed shots compared to Tayfun's higher volume.
Marat seems to be on the decline, whilst Chingiz seems to be entering his prime. Grigorian has always been very hitable in his career, using his physical gift of inhuman durability and power to push through adversity to demolish or bully his opponents. Marat was dropped by Ivan Kondratiev in his ONE debut bout, before sending the Russian to the canvas for the finish. Thus, it seems like Marat has lost some of that fabled durability. Marat has also shown poor ring cutting ability against Superbon, albeit in a circular cage, which allowed the Thai kicker to cruise to a decision against the Armenian juggernaut.
Chingiz has shown improved cardio against Superbon, putting on a high pace as he stalked and battered the kicker from pillar to post across the nearly 2 rounds of their meeting. As such, I believe Chingiz will be able to land on Marat enough over five rounds to win a decision, whilst avoiding Marat's own strikes with his greatly improved movement. Although, Chingiz will have to work very hard to keep Grigorian off of him by keeping Grigorian at bay with kicks and well timed punches.
Chingiz Allazov by unanimous decision.