A championship fight and a tournament for the vacant belt are at the center of RISE 173.
RISE 173 takes place on November 17, 2023, at the legendary Korakuen Hall, Tokyo, Japan. You can find all the details, such as how to watch on the Beyond Kickboxing Event Schedule.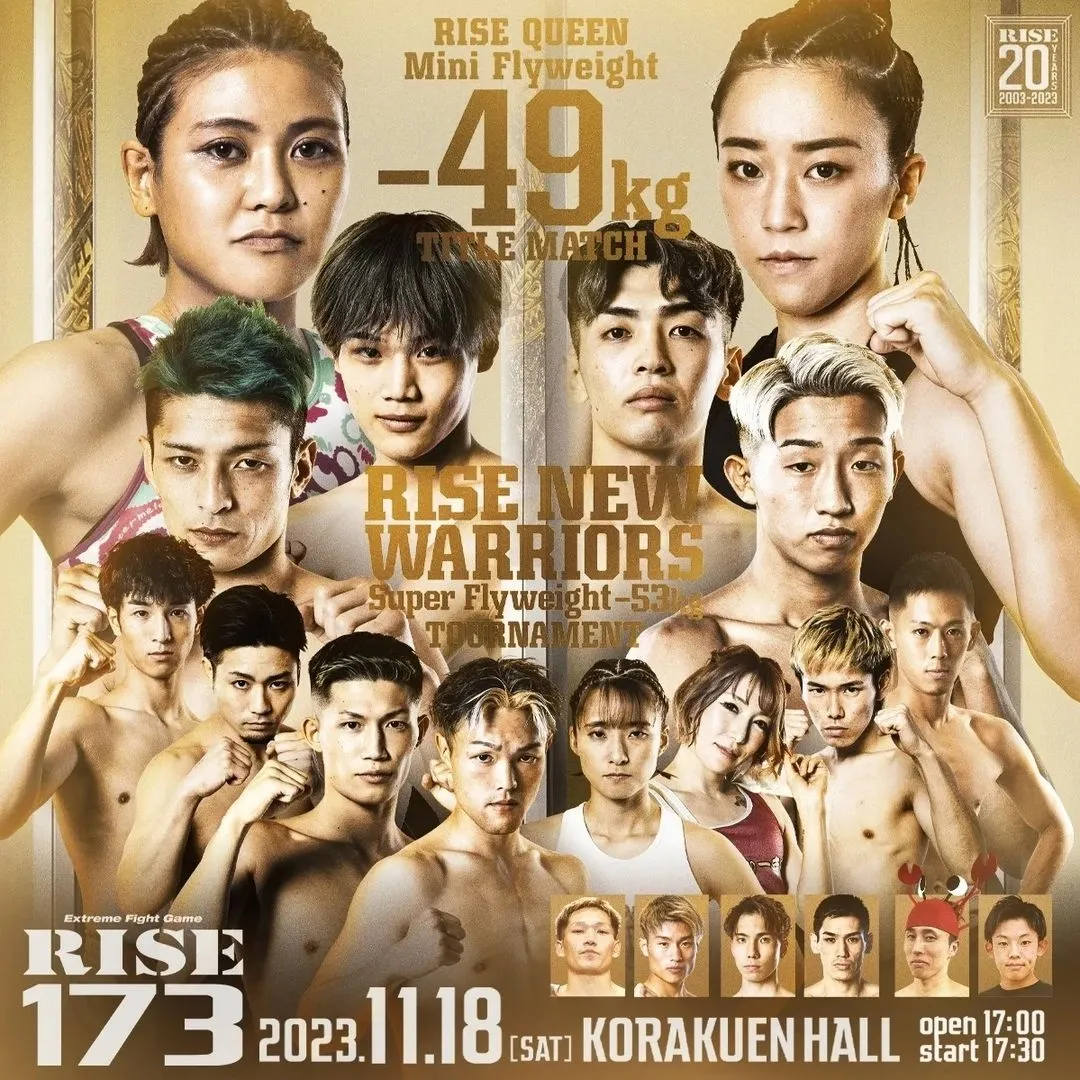 The main event features the reigning Mini Flyweight champion Erika facing the young and active Arina Kobayashi. After challenging Koyuki Miyazaki for the RISE Atomweight belt last year, Kobayashi is moving up in weight to clash with Erika. The Semi-Finals and Finals of the Super Flyweight Tournament will determine the next challenger for reigning champion Kazuki Osaki. The tournament is a lock for head-hunting, close fights, and several young fighters ready to have a breakout night. Another fight to highlight features two of the top fighters in the Featherweight (-57.5 KG) division, as the in-tight boxer Haruto Yasumoto clashes with distance kicker Daiki Sawaya. Early on the card Wakana Miyazaki, the last woman to defeat Erika, takes on Melty Kira where the victor like faces the winner of the main event. Let's take a deeper look at RISE 173.
MAIN EVENT
---
Erika vs. Arina Kobayashi – Mini Flyweight (49 KG) Title Match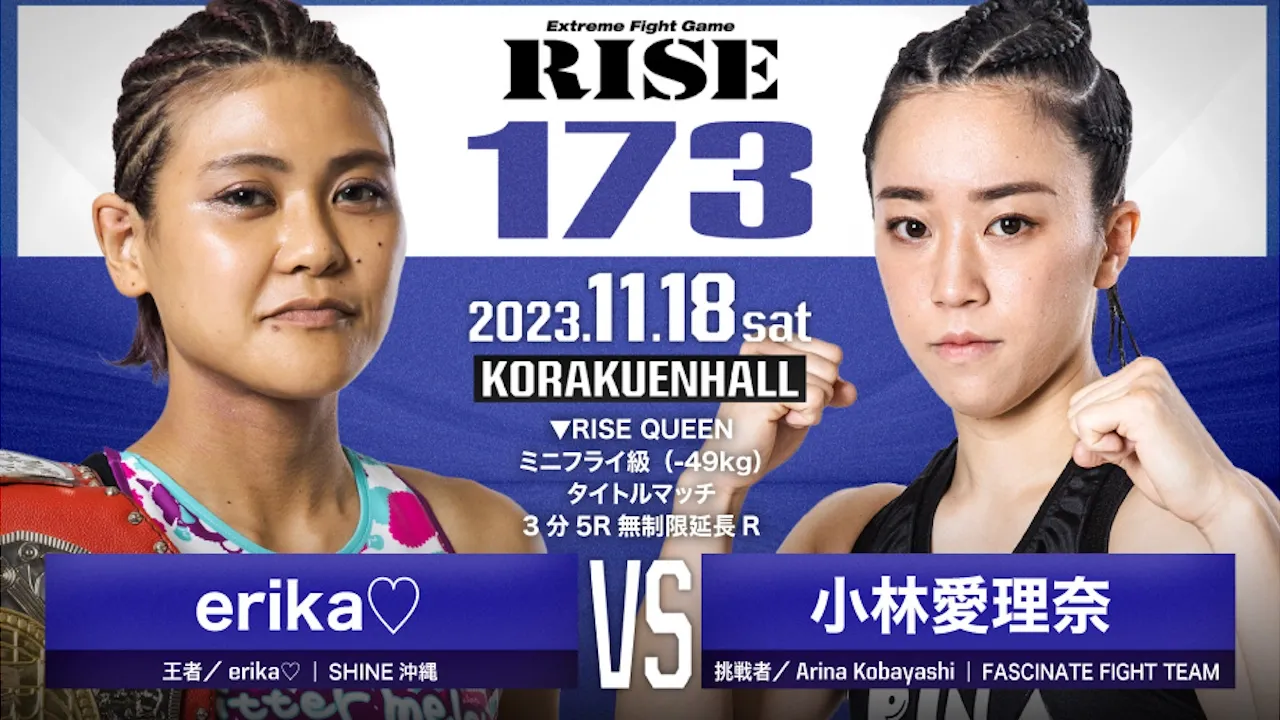 In the main event, the 33-year-old Erika is attempting her first title defense. Her opponent Arina Kobayashi is looking to establish herself even more as a top contender in another division at only 23 years of age. Erika has been a forward-moving pressure fighter for five years now, but mother time was starting to win back in 2022. Meanwhile, Kobayashi seems to be filling out her frame and fighting more to her strengths. The career trajectories don't favor Erika, but she will lay it all on the line in what may be her farewell fight in RISE.
TECHNIQUES TO WATCH FOR
Erika's high and forward guard: Erika uses this to close space and throw small turnover uppercuts or look for clinch entries. She finds success using that pressure to wear down her opponent, but Kobayashi has looked strong planting and throwing to the body in her last 3 fights. If Erika's guard leaves the body open, and Kobayashi can angle out, it can be brutal quick.
Arina Kobayashi's planted power: Kobayashi loves trading in close quarters, but excels when throwing her combos then exiting. Early in her career, Kobayashi would enter with her hands down and throw mid-step, now she enters with a stiff straight or guard up and looks for follow-up shots. If Kobayashi reverts to old habits when tired, Erika can put on her natural pressure. Otherwise, the new and improved version of Kobayashi looks to have the tight exchanges favor her.
Erika's hooks to Kobayashi's body shots: Even in Kobayashi's much improved performances, she has been tagged while over committing to the body. Erika's high volume and pressure can lead to Kobayashi getting hit while looking for spots, especially when loading for body shots.
Pick – Arina Kobayashi via decision. Kobayashi's body shots and excellent work in tight should make for an in-prime fighter taking the torch from a veteran making her return. Erika always puts on a show, and Kobayashi loves staying in striking range and trading. Even if Kobayashi wins convincingly, there should be good back and forth.
SUPER FLYWEIGHT (53 KG) TOURNAMENT
---
Jin Mandokoro vs. Ryu Hanaoka II – Super Flyweight (53 KG)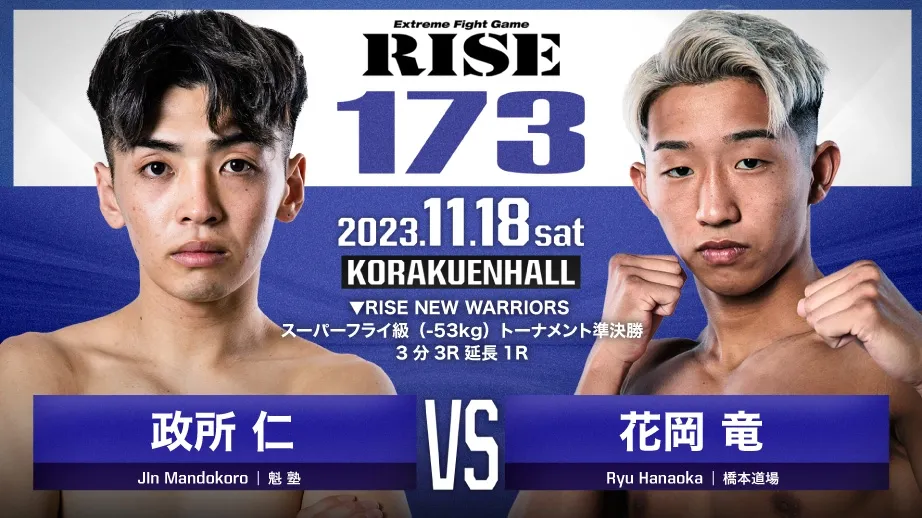 Mandokoro tries to avenge his loss against Hanaoka back at RISE 161. Hanaoka looks to continue his four fight win streak in his toughest fight since the RISE World Series 2022. Mandokoro got an aggressive finish against Ruben Seoane as both decided to fight more than kickbox two minutes into the first round. Hanaoka loves to step in and throw, and has recently started adding combos on the way in and out. It'll come down to if Mandokoro can land his leg kicks and heavy shots against Hanaoka's more constant onslaught. They match up well entertainment wise, and in terms of seeing who can establish their game.
Prediction – Ryu Hanaoka via decision. Heavy kicks, finishing power with his hands, and both fighters having a history of being more than willing to get reckless. I slightly favor Hanaoka, even with both fighters having improved since their last fight. Hanaoka won the first fight with range and combos, and has improved on both aspects since. One X-Factor is Mandokoro's increased commitment to throwing back right away, and his nasty straight coming down the middle on Hanaoka's straight lean back.
HIROYUKI vs. Kaito Hasegawa – Super Flyweight (53 KG)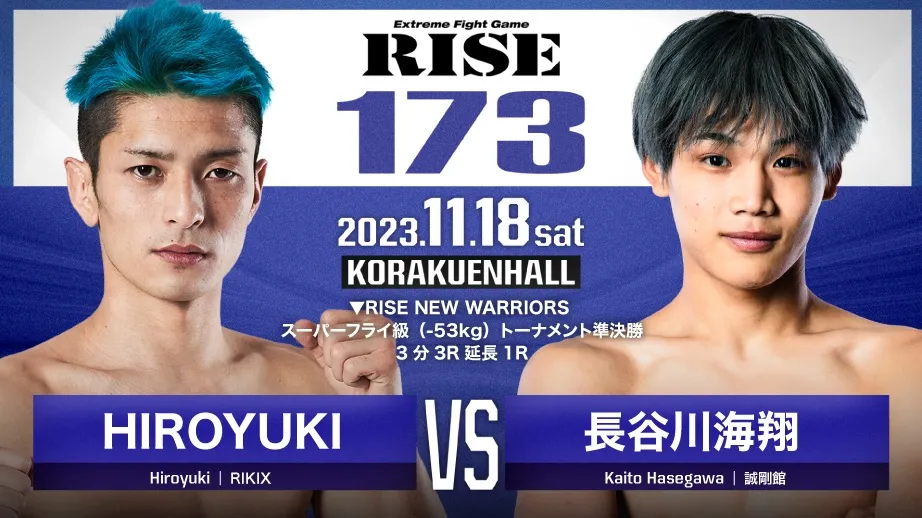 HIROYUKI'S last fight was a clear unaninous decision loss to Hanaoka, but is at the end of his physical peak and looking to make the most of it against Kaito Hasegawa. Hiroyuki will play the role of older veteran against the rising young-gun Kaito Hasegawa. Both love to aim for finishes, and Hasegawa is coming off back to back stoppages. Hiroyuki will have to use his slight strength advantage to muck up the fight and then kick at range, because the in between ranges of short kicks and boxing heavily favor Hasegawa. If they start to engage in a fireight, Hasegawa can deliver more damage per shot.
Prediction: Kaito Hasegawa via decision. My bias may factor in, but Hasegawa seems to be coming into his own and Hiroyuki struggles with the more brawling fights. If Hasegawa can avoid gassing and eating bigger shots in return, his pressure and power should give him a standout win.
Prediction for Finals Match: Ryu Hanaoka vs. Kaito Hasegawa
Hasegawa is at the career spot Hanaoka was last year – a 18-year-old prospect on the rise looking to make a big name for himself. One thing to factor in is how the semi-finals fights will go, and I think Hanaoka can have an easier first fight than Hasegawa. On top of having a potentially easier fight, Hanaoka has experience in one night tournaments and the ability to win a round early with step in combos and coast, whereas Hasegawa always looking to escalate action.
Prediction – Ryu Hanaoka via decision. The overall consistency that comes with being able to enter and exit off of combos allows for some cardio management and damage mitigation. In a one night tournament where lots of other skill sets are equal or balance out, Hanaoka can find an edge in his gameplan.
FEATURE FIGHT
---
Taiki Sawatani vs. Haruto Yasumoto – Featherweight (57.5 KG)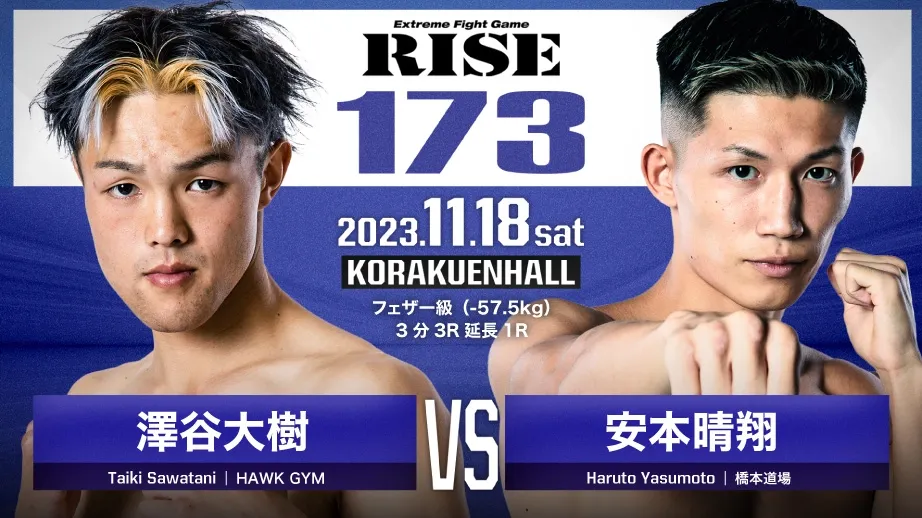 Yasumoto's in-tight boxing vs Sawatani's at-range kicks. Yasumoto was on track to beat Kaito in his last fight before he got a little too reckless and lost via decision. Sawatani is returning to face high-level competition for his first time since 2022, and I expect the sharper Yasumoto to work his boxing early and often. If Sawaya can't respond as dynamically as Kaito did, the wear and tear will lead to a Yasumoto taking over and potential rematching with Kaito. The repeat clashes of Sawatani's leg kicks and Yasumoto's tendency to punish them with boxing should lead to both landing early and often. Yasumoto loves to make the fight a show, and Sawatani always pushes in the last round, so the fight has the makings for action start to finish.
Prediction – Haruto Yasumoto via decision. The boxing of Yasumoto should be able to carry him to a decision, assuming he doesn't get carried away and gas out similar to the Kaito fight. Sawatani often likes to bait engagements with his hands down, and Yasumoto has some heavy hooks. If Sawaya stats to tire, the risky defense can really be punished.
Fun Fact Fight: Wakana Miyazaki vs. Melty Kira – Mini Flyweight (49 KG)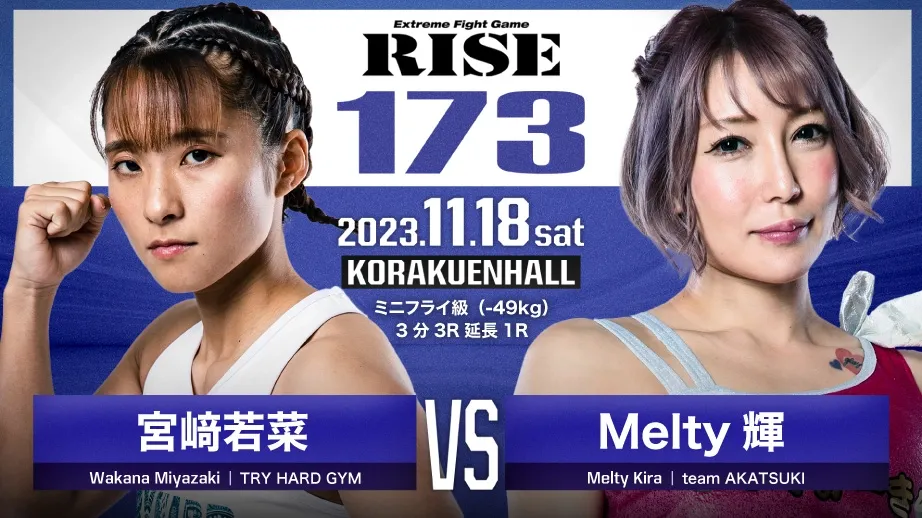 Wakana Miyazaki is the last woman to defeat Erika, but lost to Arina Kobayashi last year. Melty Kira lost her showcase fight against Manazo Kobayashi, and now is likely being used as the springboard for Miyazaki. Miyazaki has not fought for a year, and Kira will likely be the "get-right," fight for her. Look for Miyazaki to work the body and wear down Kira before aiming high.
Prediction – Wakana Miyazaki via decision. Bullying ring control, framing to knees, excellent body and leg kicks, and victories over better talent. Hopefully a successful comeback fight for Miyazaki.
TLDR
---
Main Event
Action-packed fight and the next step in Arina Kobayashi's ascension.
Tournament
All four fighters love pushing the pace, with Ryu Hanaoka and Kaito Hasegawa looking extra violent this year.
Feature Fight
Haruto Yasumoto hopes to set himself up for a Kaito rematch with a win against the game Daiki Sawaya.
Next Challenger for Winner of Main Event
Wakana Miyazaki and Melty Kira settle who's the next likely contender for the Mini Flyweight title.