The Thai police suspected that the famed referee committed suicide due to work stress.
Multiple Thai news articles reported that at around 10:00 PM local time on 16 June, the Royal Thai police received a report of a suspected suicide case at a condominium in Bang Kapi, Bangkok. The investigation and forensic team traveled to the unit and found the body of the 34-year-old Muay Thai referee and police sergeant Watcharin Ratchaniphon, also known as Paopom with a SIG Sauer handgun next to his body in his own room.
The police did not find a sign of a struggle or robbery attempt and suspected that the late referee shot himself. Watcharin's wife told the police that her husband did not have any debt or financial issues but was often stressed from work and suffered from depression. The body was sent to the Institute of Forensic Medicine, Police General Hospital, for a postmortem examination.
Watcharin was best known as the first Thai referee of ONE Championship, making his entrace at ONE's debut at Lumpinee Stadium at ONE Friday Fights 1 on January 20, 2023. He then earned wide praises from international and domestic fans for his impartiality and decisiveness during the fights. He was renowned for prioritizing fighters' safety, diving onto the canvas to save knocked-out fighters' heads from further damage on multiple occasions. Watcharin last appeared at ONE Fight Night 11 on 10 June 2023, as the referee of the Superbon and Tayfun Ozcan bout, and received praise for his lightning speed reaction that saved Tayfun's head after the highlight-reel knockout.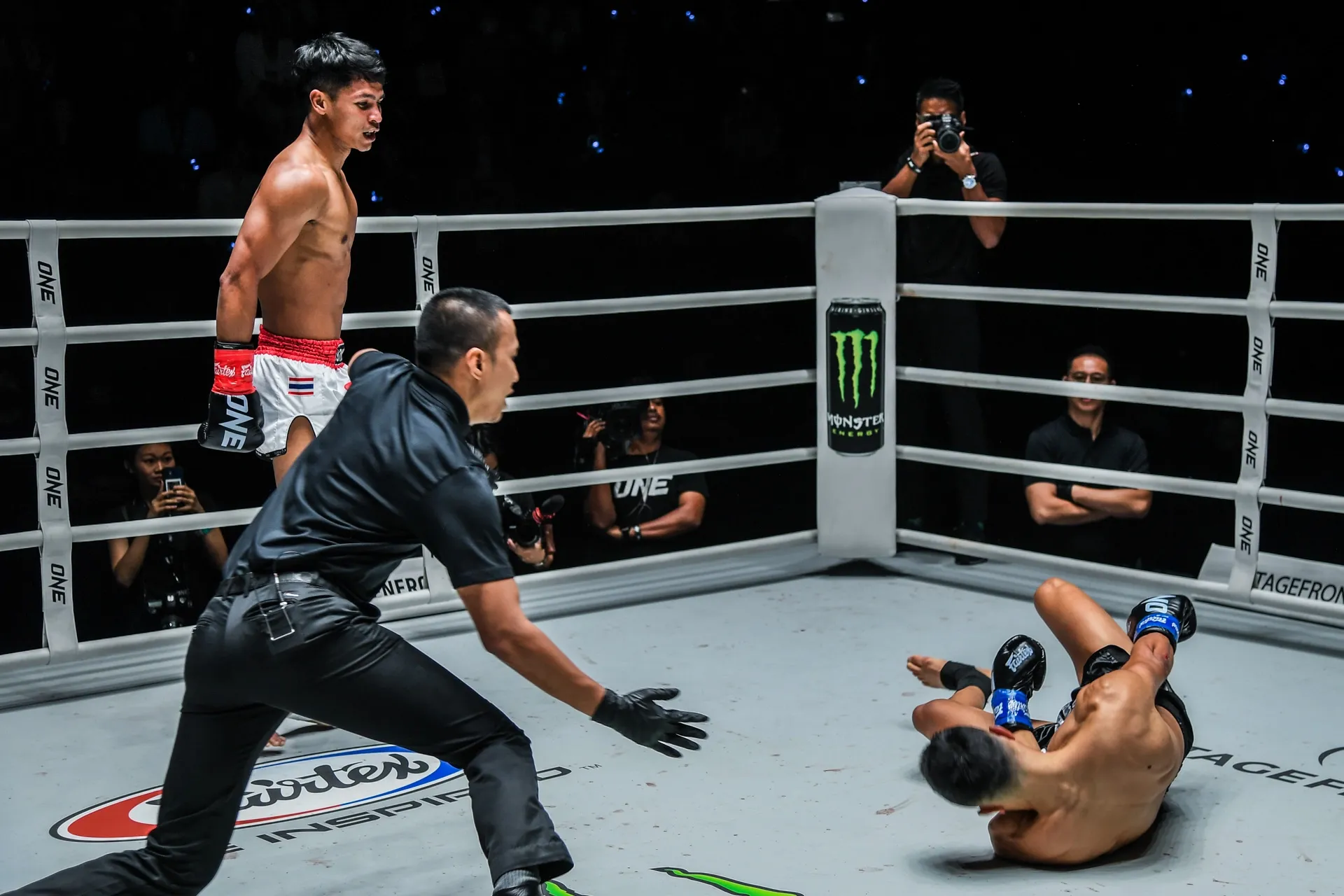 Watcharin first entered the Muay Thai world as a child fighter at nine years old and competed in over 150 fights, before retiring at 18 years old due to a broken arm. He then passed the examination to become one of the youngest Muay Thai referees in 2013. He earned several accolades, including Excellent Referee Award from the Lumpinee Stadium, two consecutive Outstanding Referee Awards from the Sports Authority of Thailand, and The People's Favorite Referee Award from the Sports Journalists Association of Thailand.
In his interview on ONE Championship's website in April 2023, he said that he was honored to be the first Thai referee on the world stage at ONE Championship and praised the company for raising the standards of every aspect in the Muay Thai industry.
"Referee is the one who upholds the rules and scores the fight fairly to protect the honor and dignity of Muay Thai" – Watcharin Ratchaniphon.