The Thai national hero will be making his boxing debut against the Filipino living legend in Thailand next year.
A famous Thai sports insider, Bebangpakong (Worathep Makapokha), revealed on his Facebook page that Vinij Lertratanachai, the CEO of Fresh Air Festival Co Ltd, informed him about his next project, the 2024 mega sports event titled 'The Match 3' headlined by a boxing bout between Buakaw Banchamek and Manny Pacquiao.
The press conference to announce the fight along with an official signing ceremony will take place at 4:00 PM ICT on July 21.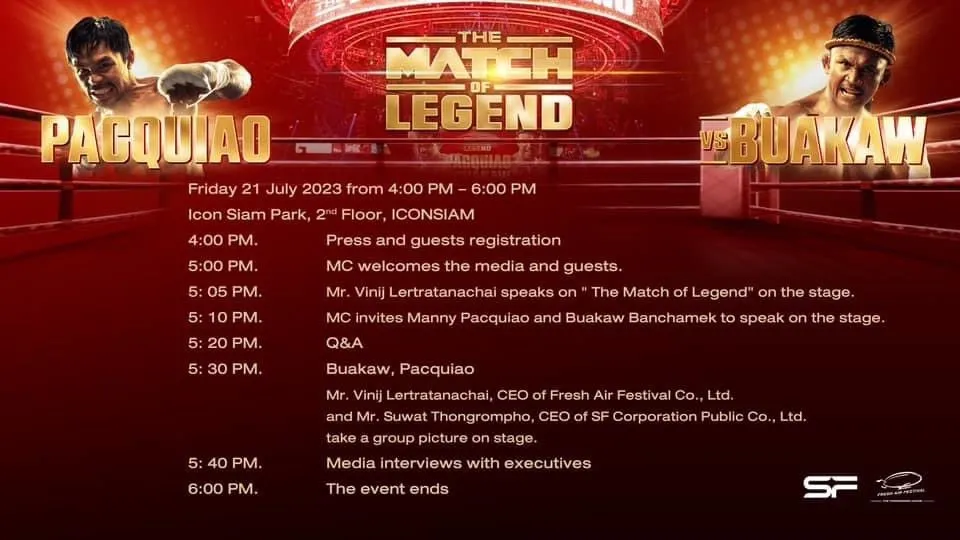 Fresh Air Festival is best known for organizing the football match between Manchester United and Liverpool called 'THE MATCH Bangkok Century Cup 2022' in Thailand in July 2022. In March 2023, the company also held a six-red snooker tournament billed as 'The 2023 Pathum Thani Six-Red World Championship', also known as 'The Match 2'.
Both superstars are now at the end of their careers and are no strangers to big money matchups that capture the public's imagination. After returning in 2022 from a 3-year layoff due to the pandemic, Buakaw faced Kota Miura, a Japanese social media star and 1-0 MMA fighter, in an exhibition kickboxing fight in August last year at the Rajadamnern World Series.
He then made his bareknuckle boxing debut, knocking out outmatched Erkan Varol in the first round. Buakaw made a return to Japan at RIZIN 42 and fought the former K-1 Super Lightweight champion Rukiya Anpo to a draw, receiving a reported purse of 10 million baht ($290,000).
Before the bout with Pacquiao, Buakaw will face his best friend and fellow Thai hero, Saenchai, in a bareknuckle Muay Thai match at BKFC Asia 5 on November 4. According to Saenchai, the purses will be the highest for Thai fighters in history with each fighter taking a guaranteed 12 million baht ($350,000) and a 5 million baht ($150,000) win bonus.
Manny Pacquiao has been part of some of the highest grossing fights in boxing history, including the most commercially successful fight of all time against his rival, Floyd Mayweather, in 2015. After retiring in 2021 following a defeat to Yordenis Ugás, the Filipino legend has joined in on the celebrity boxing trend, defeating DK Yoo in an exhibition bout in South Korea in December 2022.
Pacquiao then announced that he has signed with RIZIN for a single-fight contract and is expected to make his debut in the promotion in 2023. However, Pacquiao has yet to compete in RIZIN and was ordered to pay $5.1 million in damages to Paradigm Sports in May this year for breach of contract.