The two former K-1 fighters are scheduled to throw down for the fifth time.
Yoshihiro Sato and Buakaw Banchamek will meet in an exhibition bout on October 28, as part of the 'Legend of Rajadamnern' event series. The bout will take place at the legendary Rajadamnern Stadium in Bangkok, Thailand, and will be broadcast by GoSport on their YouTube and Facebook channels. A replay will be available for later viewing on the 'Rajadamnern World Series' YouTube channel.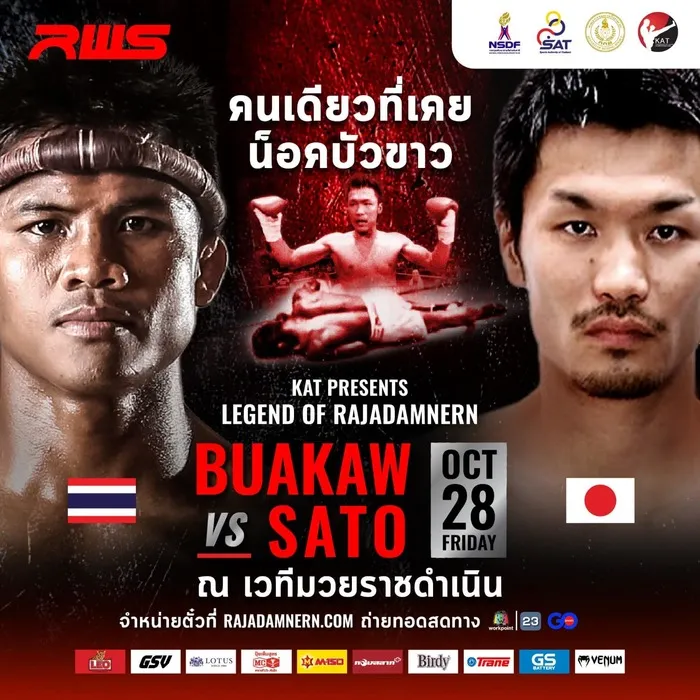 The pair first met under Kickboxing rules 16 years ago, with Buakaw, at the height of his career, scoring a second-round knockout. They would fight twice more under the K-1 banner, with the Thai taking a narrowly contested split decision in their second bout and Sato scoring a huge upset, winning by knockout in the third one. In their fourth fight, which took place under Muay Thai rules in 2013, Buakaw was once again able to get this hand raised after three hard-fought rounds.
The 41-year-old Sato has spent the past seven years enjoying his retirement, as he left the sport of kickboxing in 2015, on the back of two stoppage losses. Buakaw, a year younger than Sato, has on the other hand kept busy. He's fought a total of 48 times in the past decade, only tasting defeat on four occasions. The two-time K-1 MAX champion has had two professional bouts so far this year, a decision win over Dmitry Varats in July and a knockout victory over Erkan Varol a month later, in what was his debut in bare-knuckle boxing.
Although this is billed as an exhibition bout, it will most likely only be an exhibition in the sense that it doesn't count on their records. Buakaw faced the popular Japanese mixed martial artist Kota Miura in another exhibition this past month and had the Japanese fighter badly staggered at several points, which forced the referee to stop the contest in the third round.
One would hope Sato will come well prepared, as he will find a game Buakaw opposite him in the ring.