The official weigh-ins for GLORY: COLLISION 4 took place today.
All fighters made weight, and the event will proceed tomorrow as planned with nine bouts.
Headlining GLORY: COLLISION 4 is the long-awaited trilogy bout kickboxing legends Badr Hari and Alistair Overeem. Hari weighed in at 111.4 kg, while Overeem tipped the scales at 112.8 kg.
In the co-main event, Super Bantamweight Champion Tiffany Van Soest will defend her belt against Sarah Moussaddak. Both hit the mark at 55 kg.
GLORY: COLLISION 4 will stream live on Videoland in the Netherlands at 20:00 CET. Tickets are available at glorykickboxing.com/tickets.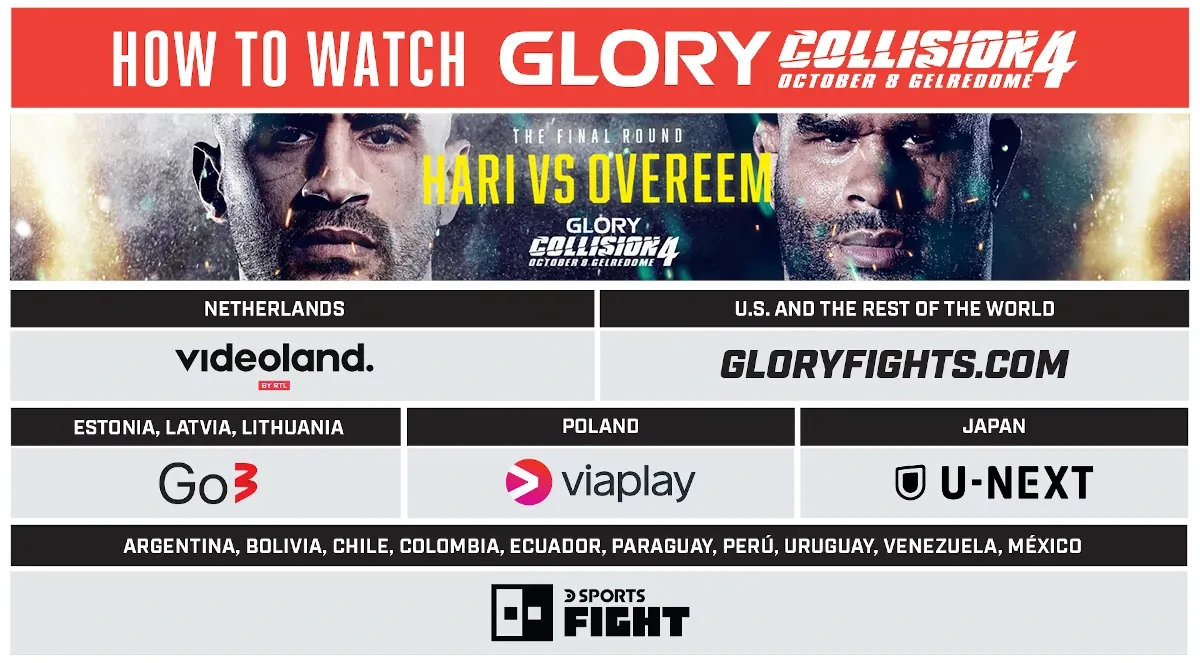 Visit glorykickboxing.com for more info on how to watch in your country.
WEIGHT RESULTS
---
COLLISION 4 MAIN CARD
Badr Hari (114.4 kg) vs. Alistair Overeem (112.8 kg) - Heavyweight Main Event
Tiffany van Soest (55 kg) vs. Sarah Moussaddak (55 kg) - GLORY Super Bantamweight Title Bout
Sergej Maslobojev (94.4 kg) vs. Tarik Khbabez (94.6 kg) - GLORY Light Heavyweight Title Bout
Tyjani Beztati (69.9 kg) vs. Stoyan Koprivlenski (70 kg) - GLORY Lightweight Title Bout
Petchpanomrung (64.9 kg) vs. Abraham Vidales (64.8 kg) - GLORY Featherweight Title Bout
Levi Rigters (114.4 kg) vs. Tariq Osaro (125.5 kg) - Heavyweight Bout
COLLISION 4 PRELIMS
Serkan Özçağlayan (83.6 kg) vs. Cesar Almeida (84.9 kg) - Middleweight Bout
Felipe Micheletti (95 KG) vs. Donegi Abena (95 kg) - Light Heavyweight Bout
Michael Boapeah (84.1 kg) vs. Sergej Braun (84.9 kg) - Middleweight Bout