GLORY Kickboxing continues to make strong signings in 2023.
Two regional standouts will face each other on the main card of GLORY 84, as undefeated Ștefan Orza has been scheduled to take on Chico Kwasi in a Welterweight bout on Saturday, March 11 in Rotterdam, the Netherlands.
Orza has amassed a perfect 18-0 record in his first five years as a professional kickboxer. He has dominated the domestic Romanian scene during this time, capturing the Colosseum Tournament Welterweight title and overcoming the likes of Alexandru Amariței, Anghel Cardoş, and Andrei Ostrovanu. Orza's success briefly earned him a place in our rankings, as he held the #10 Welterweight spot for the month of November .
Kwasi will enter the fight on a six-fight win streak, which includes title-winning performances over Henrikas Viksraitis and Hendrik Themas during his time with King of Kings, as well as victories over GLORY veterans Vedat Hoduk and Sergej Braun in his two most recent appearances. Having briefly flirted with a career in professional boxing over the past several years, Kwasi seems to have re-dedicated himself to kickboxing and will look to build on his earlier success.
The final announced bout of the card will see Michał Bławdziewicz return to the GLORY ring to take on promotional newcomer Sofian Laïdouni in a Heavyweight fight.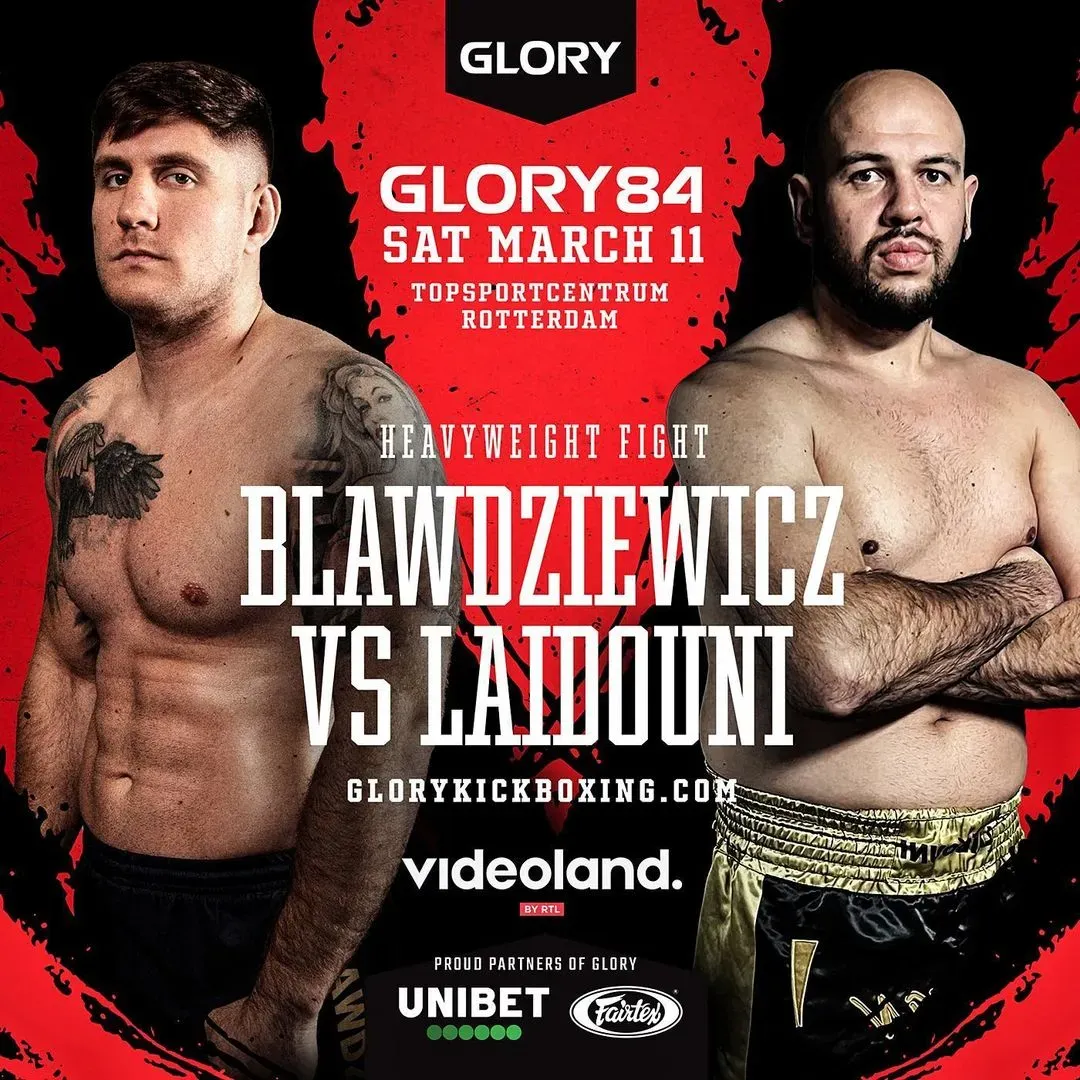 Bławdziewicz debuted with the Dutch-based promotion at GLORY 82 opposite Jahfarr Wilnis and ended up on the wrong side of a unanimous decision. He'll try to rebound against the 27-year-old Laïdouni, who's been inactive with just two fights in the past three years. The Frenchman will enter the fight on a win, however, as he was able to beat Tomáš Hron in June to capture the WAKO K-1 Super Heavyweight title.
GLORY 84 FIGHT CARD
---
MAIN CARD
Tyjani Beztati vs. Petchpanomrung - GLORY Lightweight Championship
Tarik Khbabez vs. Kristaps Zīle - Light Heavyweight
Jay Overmeer vs. Jamie Bates - Welterweight
Nordine Mahieddine vs. Felipe Micheletti - Middleweight
Ertugrul Bayrak vs. Michael Boapeah - Middleweight
Chico Kwasi vs. Stefan Orza - Welterweight
PRELIMINARY CARD
David Tuitupou vs. Strahinja Mitric - Heavyweight
Michal Blawdziewicz vs. Sofian Laïdouni - Heavyweight
Iliass Hammouche vs. Brice Kombou - Middleweight