The official weigh-ins for GLORY Rivals 5 took place today.
GLORY Rivals 5 in collaboration with War of Nations, will take place in Tulum, Mexico tomorrow night, Saturday, January 28.
In the main event, Mexico's own Abraham Vidales will face the dangerous Tomás Aguirre, a native of Argentina who's boasting twenty-two finishes in his twenty-seven fights. Aguirre tips the scales at 64,5 kg and Vidales comes in at an allowed 0,5 kg heavier than the Featherweight limit.
In the co-main event, highly ranked GLORY Middleweight contender Ivan Galaz of Chile returns to action and will meet Brazilian KO artist Renan Altamiro. The bout will mark Galaz's first appearance inside the GLORY ring since 2019. Both weigh in at 84 kg.
Also featured on the card, GLORY debutants Jonas Julio and Javier Aparicio will square off in a Welterweight clash and top-five ranked GLORY Featherweight contender Denis Wosik will go for his third consecutive victory as he takes on GLORY newcomer Marcos Rios.
Additionally, top-ten GLORY Lightweight contender Bruno Gazani will fight Swedish Magnus Andersson and the Netherlands' Tessa de Kom welcomes Argentina's Giuliana Cosnard in the opening bout of the evening.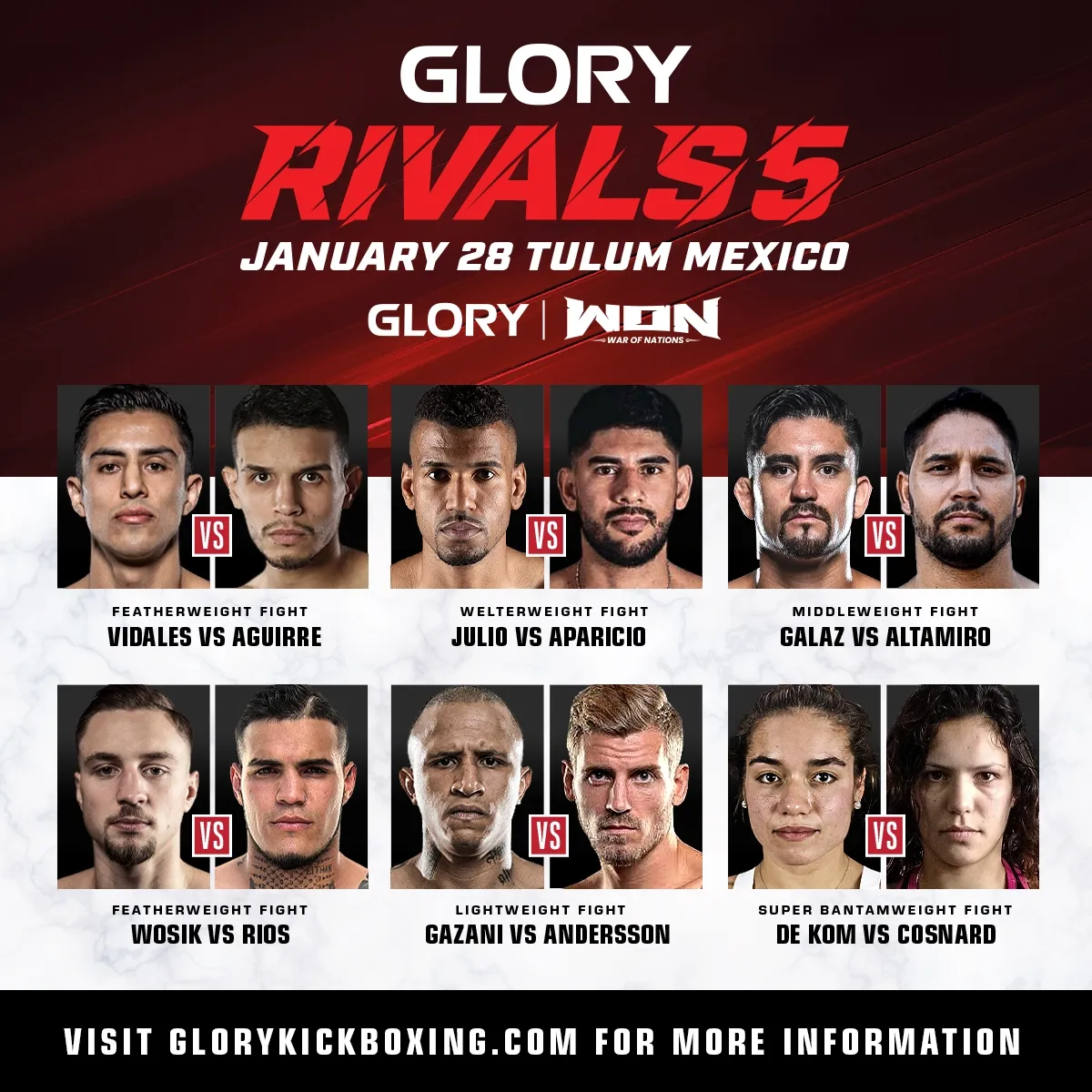 Visit glorykickboxing.com for more info on how to watch in your country.
GLORY RIVALS 5 WEIGH-IN RESULTS
---
MAIN CARD
Abraham Vidales (65.5 kg) vs. Tomás Aguirre (64.5 kg) - Featherweight
Ivan Galaz (84 kg) vs. Renan Altamiro (84 kg) - Middleweight
Jonas Julio (77 kg) vs. Javier Aparicio (77 kg) - Welterweight
Denis Wosik (65 kg) vs. Marcos Rios (65 kg) - Featherweight
Bruno Gazani (70 kg) vs. Magnus Andersson (70 kg) - Lightweight
Tessa de Kom (52 kg) vs. Giuliana Cosnard (52 kg) - Bantamweight