Most of the organization's champions will make an appearance at their final show of the year
Despite having his 18-fight winning streak, amassed over the course of three years, snapped by GLORY Lightweight champion Tyjani Beztati this past August, Kaito Ono seems undeterred in his quest for further success. He will look to start a new title run against GLORY veteran Massaro Glunder at 'Shootboxing Series Final' on November 14, in what has been booked as a Super Welterweight (-70 KG) non-title bout.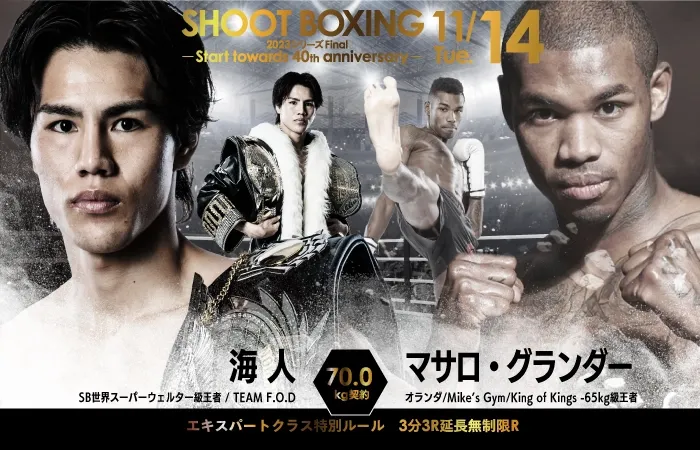 Glunder will be making his return to the sport of kickboxing following a four-year absence from the sport of kickboxing, during which time he unsuccessfully attempted to start a mixed martial arts career, suffering two submission losses in the final three months of the past year. All the same, the 29-year old should still be in his athletic prime and was ranked among the best at his weight during his heyday, although he'll definitely be in the underdog role against Ono, who's without a doubt Japan's best fighter at the higher weights.
Ono will look to return to GLORY following this fight, having stated in the pre-fight press conference: "Last time I lost the title fight at a GLORY event in Netherlands. But I won't give up, and the reason I won't give up is because the fans who have been cheering for me and giving me strength have told me that even though I lost I should keep trying, so I will definitely be aiming for revenge. Right now I'm #5 in the GLORY Lightweight rankings, so if I beat #4 through #1, I will be challenging the champion again. I can't wait."
The other two announced fights will see Shootboxing Lightweight (-62.5 kg) champion Hiroki Kasahara face Superball Tded99 in a -64 KG catchweight fight and RIZIN veteran Hideki Sekine face Yuki Sakamoto in a Heavyweight fight, both of which will be contested in open-finger gloves. Super Featherweight champion Yuki Kasahara, Featherweight champion Kotaro Yamada, Super Bantamweight champion Koyata Yamada and Women's Atomweight champion MISAKI have also been confirmed for the event, although their opponents haven't yet been revealed.