The Japanese fan-favorite makes his long-awaited title challenge.
Japanese Shootboxing ace Kaito Ono is set to face GLORY Lightweight champion Tyjani Beztati at GLORY 87 on August 19 in Rotterdam, the Netherlands.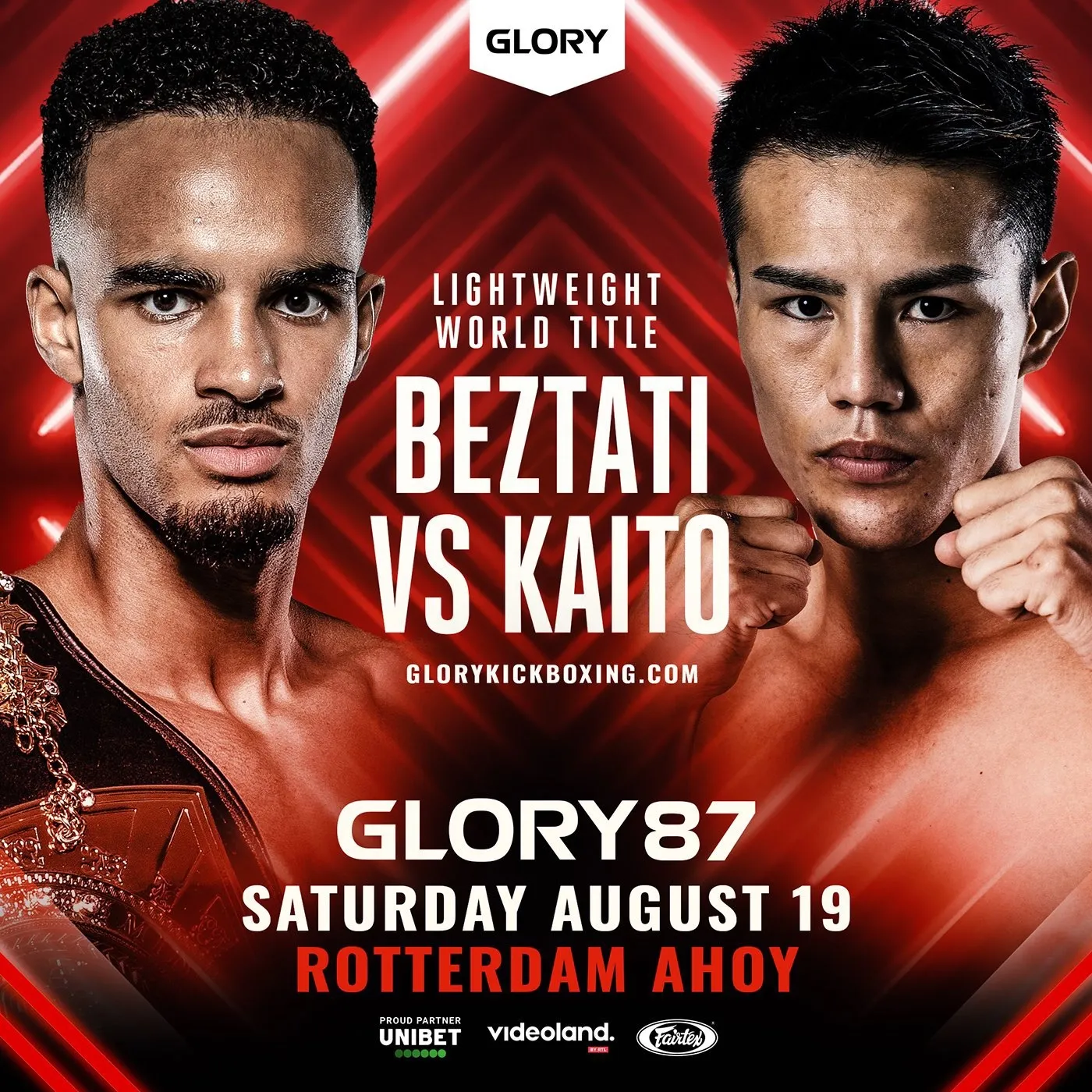 Kaito Ono has been on a historic 18-fight win streak, with wins over big names like K-1 champion Masaaki Noiri, K-1 World MAX semi-finalist Hinata Watanabe, and perennial GLORY title contender Stoyan Koprivlenski. The Shootboxing king has accumulated all of these wins in the span of three years, showing an unprecedented level of activity in his kickboxing career. Kaito will be looking to make a statement by snapping the winning streak of the GLORY Lightweight king Beztati.
GLORY Lightweight champion Tyjani Beztati is coming off of a phenomenal knockout win against pound-for-pound ranked and GLORY Featherweight champion Petchpanomrung Kiatmookao. The Moroccan used his size and boxing to bully the Thai for the entire duration of the fight, before flooring the southpaw with a front kick to the body in the fourth round. The GLORY Lightweight king seeks to make his fifth title defense to cement himself as one of the top Lightweights in the world.
GLORY 87 will also feature a four man qualifying tournament for the GLORY Heavyweight Grand Prix that is set to take place at the end of the year, with Enfusion Heavyweight Champion Martin Terpstra and GLORY Light Heavyweight title challenger Bahram Rajabzadeh set to take the stage for the tournament.
The card will also feature the return of former Welterweight champion Murthel Groenhart against Cihad Akipa, who is making his debut at Welterweight after losing a close split decision to Guerric Billet at Lightweight. The event will also feature an explosive Middleweight rematch between Michael Boapeah and Sergej Braun. In their first match, Braun was able to win a close majority decision in a fight where both men chose to exchange heavy shots in the center of the ring.