Four additional fights have been announced for RISE 163, taking place at the Korakuen Hall in Tokyo December 10.
The former Beyond Kickboxing #9 Featherweight Kan Nakamura takes on Sumiya Ito, while RISE top ranker Tomohiro Kitai moves up a division to Super Lightweight to take on Yutaro Asahi. Additionally, Team Teppen prospect Shun Shiraishi faces Kenshin Yamamoto.
Nakamura has had quite the hype ever since he was crowned the 6th DEEP☆KICK champion in April 2019, undefeated at the time. His undefeated streak did not last, but his hype train has continued rolling on after being called to RISE, beating former Krush and K-1 champion Taiga, and putting on a back-and-forth war against Ya-Man, that would put both on the map. After that, he won against Kitai in April 2022, baiting him into a lightning left cross and putting him down in one of the flashiest finishes of the year.
He was then called upon to represent RISE on The Match 2022 fight card, where he got the decision victory against former K-1 title challenger Leona Pettas, who would later become the Super Featherweight K-1 champion.
With the wind in his sails, he was given the chance to fight against the current RISE Super Featherweight champion Chan Hyung Lee in a Lightweight bout two months ago. In the opening round, Nakamura pushed the pace and took the lead, but in the second round, Lee pressed him into a corner stunning him with a jab and cross and finishing him with a flurry of punches, making Lee the first fighter to stop Nakamura.
Nakamura is wasting no time despite the loss, making a quick turn around facing Sumiya Ito who started his RISE career in 2019 with three quick wins. Having the reputation of being an underground fighter, Ito was chosen to face Ya-Man and Yuma Yamaguchi in open finger-glove bouts. Despite trading knockdowns with Ya-Man, he would not walk away the winner, losing the fight by TKO in the first round. He then went on to lose a technical decision against Yamaguchi due to an accidental eye-poke.
This is a battle between two heavy-handed fighters who are not afraid to bite down and swing, and it will certainly be a tense, action-packed fight to keep an eye on.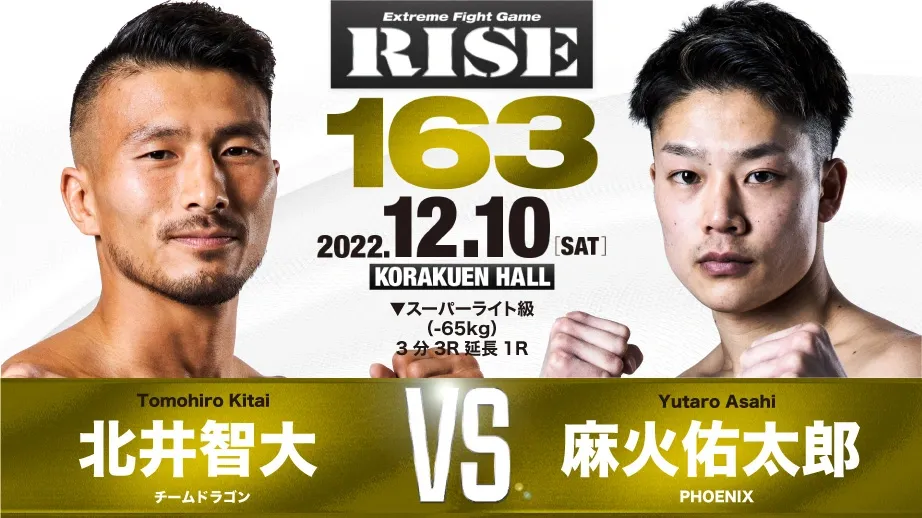 Tomohiro Kitai comes off three consecutive knockout losses as is looking to make a comeback against Yutaro Asahi, this time moving up to the Super Lightweight division. Will the change of division be what it takes to get back on the winning track? He faces stiff competition in his younger opponent Asahi, who reached best 4 in the -60kg K-1 Koshien and is the winner of the KAMINARIMON x Shin Karate Saikyo Kessen -63kg tournament, but is also coming off a loss.
Can the young up-and-comer get the win, or will it be the veteran who makes the much-needed comeback?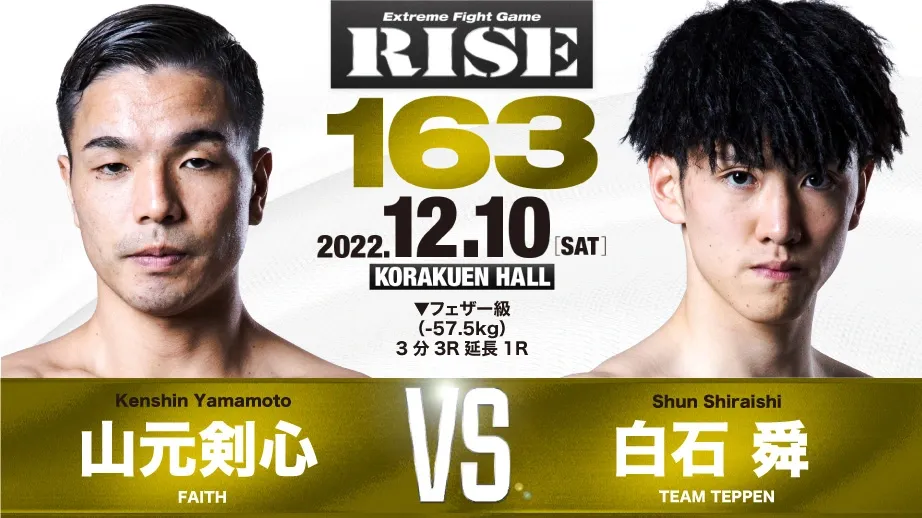 In the Featherweight division the Teppen prospect Shun Shiraishi, 3-0 since his debut this year, takes on a more experienced opponent in the RISE #9 ranked Featherweight Kenshin Yamamoto.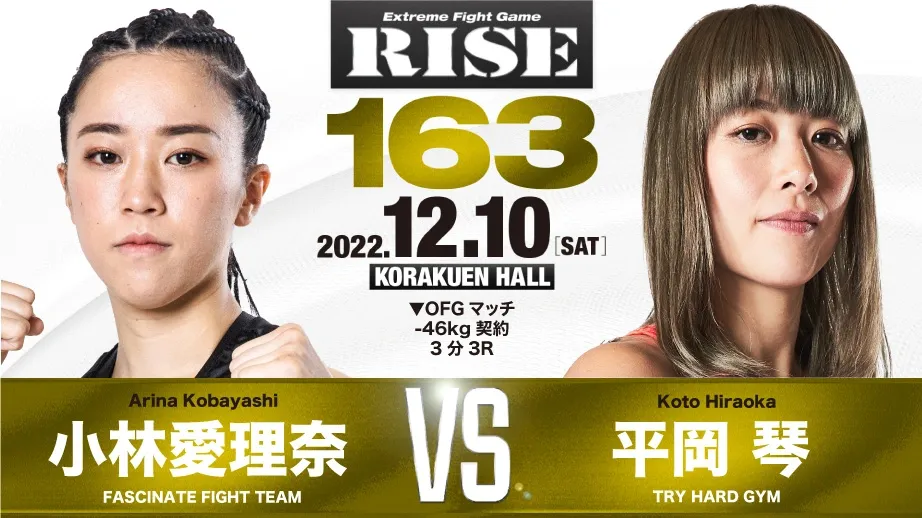 Arina Kobayashi makes her return to the numbered RISE series to face Kota Hiraoka, after a win against Wakana Miyazaki on RISE Evol.11. The two have fought once before, with Kobayashi taking home a majority decision win.
Having only had three losses, all of them to current RISE Atomweight champion Koyuki Miyazaki, Kobayashi wants to once again prove her spot as the top-contender in the division. Hiraoka on the other hand looks to avenge her previous loss to Kobayashi and extend her winning streak to four in a row, to put her stake down as the next challenger.
RISE 163 FIGHT CARD
---
70.0 kg: Tsukuru Midorikawa vs. Ricardo Bravo
53.0 kg: Jin Mandokoro vs. Koudai Hirayama
55.0 kg: Ryunosuke Omori vs. Yugo Kato
57.5 kg: Ryoga Hirano vs. Taiki Sawatani
57.5 kg: Daiki Toita vs. Kazuhiro Matsuyama
51.5 kg: Kota Arai vs. Tenshi Matsumoto
63.0 kg: Nakamura Kan vs. Sumiya Ito
65.0 kg: Tomohiro Kitai vs.Yutaro Asahi
57.5kg: Kenshin Yamamoto vs Shun Shiraishi
46.0kg: Arina Kobayashi vs Kota Hiraoka