The last RISE event of 2022 is shaping up to be one of the best they've put on all year.
Four additional bouts have been announced for 'RISE World Series / Shootboxing-Kings 2022' earlier today, at a press conference held jointly by RISE and Shootboxing. Two of the fights will be contested under the RISE kickboxing rule set, while the remaining two will be contested under Shootboxing rules.
With 15 main card fights and three preliminary ones, the card is almost complete. The only two competitors who are still without an opponent are Kaito Ono and Yuki Kasahara, who will most likely have their adversaries revealed at a later date.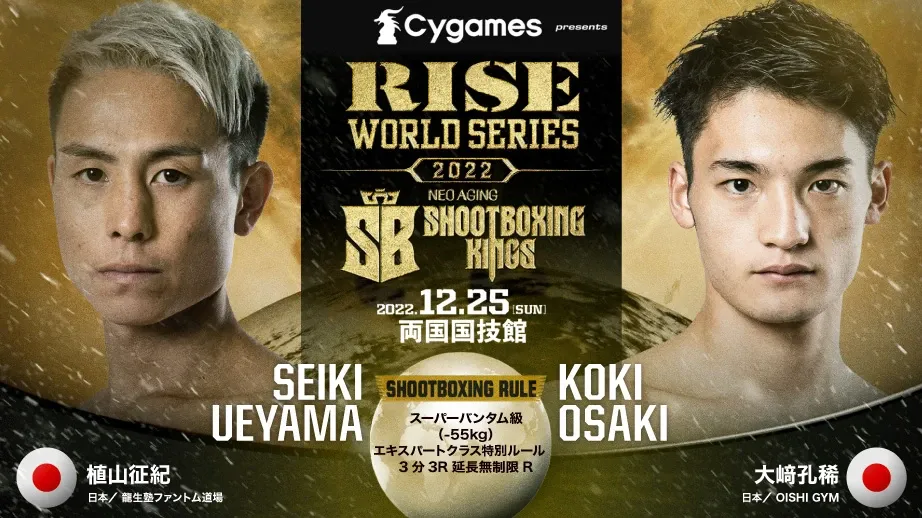 Koki Osaki, currently ranked as the sixth-best Super Flyweight in the Beyond Kick Rankings, will face the experienced Shootboxing veteran Seiki Ueyama in a Shootboxing rules bout.
Osaki has most recently had his eight-fight winning streak, which spanned two years and three different organizations, snapped by Shiro in October of this year, as he lost a unanimous decision after an extension round was contested. This was only his fourth loss under kickboxing rules however and the Nagoya native is a firmly established member of the divisional elite, with wins over the likes of Kazane Nagai and Tatsuto Ito proving his quality.
In his most recent appearance, Ueyama took the world's best super flyweight Masahiko Suzuki to an extension round, where he eventually lost by unanimous decision. It was the type of loss that raised his stock however, as he managed to knock the RISE bantamweight champion down and in fact performed better against him than some of the fighters currently ranked in Beyond Kick's top ten. He'll look to build on that performance here and finally prove he belongs among the best with a triumph against Osaki.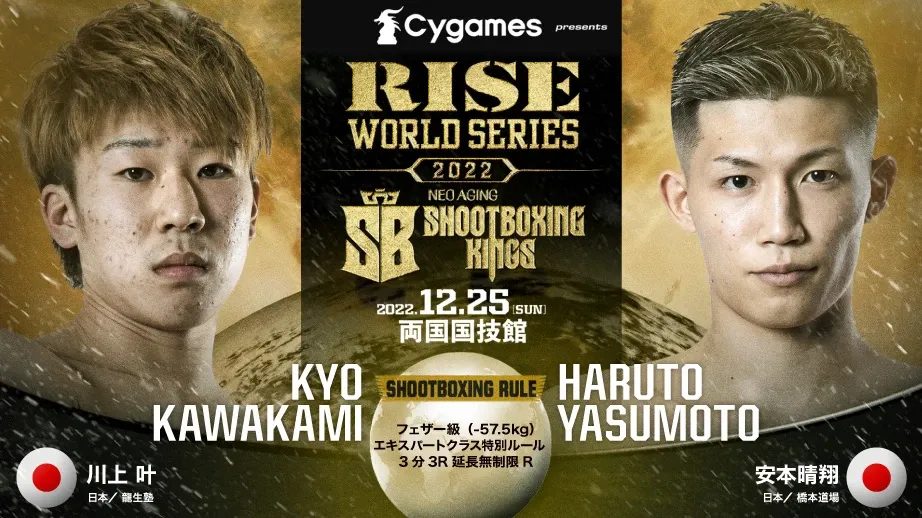 Two-weight Shootboxing champion Kyo Kawakami will face one of Featherweight's best prospects Haruto Yasumoto in a Shootboxing rules bout.
After a dreadful 2-4 start to his professional career, Kawakami rebounded by winning six of his next eight fights, which included a second-round knockout of Syuto Sato to capture the inaugural Shootboxing Bantamweight title. He has since moved up to Featherweight and won both of his fights at the new weight, with his title-winning majority decision triumph over Kaito Sakaguchi earning him a spot in our inaugural rankings.
Opposite him in the ring will be 22-year old Yasumoto, who captured a grand total of 24 amateur titles during his six year amateur career, which began at the age of ten, and six professional titles in his six year professional career, which began at the age of 16. He's only tasted defeat once in 30 professional appearances, to the aforementioned Seiki Ueyama. Yasumoto has all the makings of a great kickboxer and it will be interesting to see how he performs in his first meeting with the division's best.
The remaining two fights will see Shoa Arii face Koyata Yamada in a bantamweight bout and Ryujin Nasukawa face Kojiro in a Flyweight bout. All four are promising young fighters that have been appropriately matched. They will not only prove to be entertaining contests, but a chance for two of the four to take a step forward in their careers.