The stacked end-of-year RISE card is almost finalized.
Five additional fights have been announced for 'Rise World Series / Shootboxing-Kings 2022', which will take place on December 25 and will be co-organized with GLORY and Shootboxing.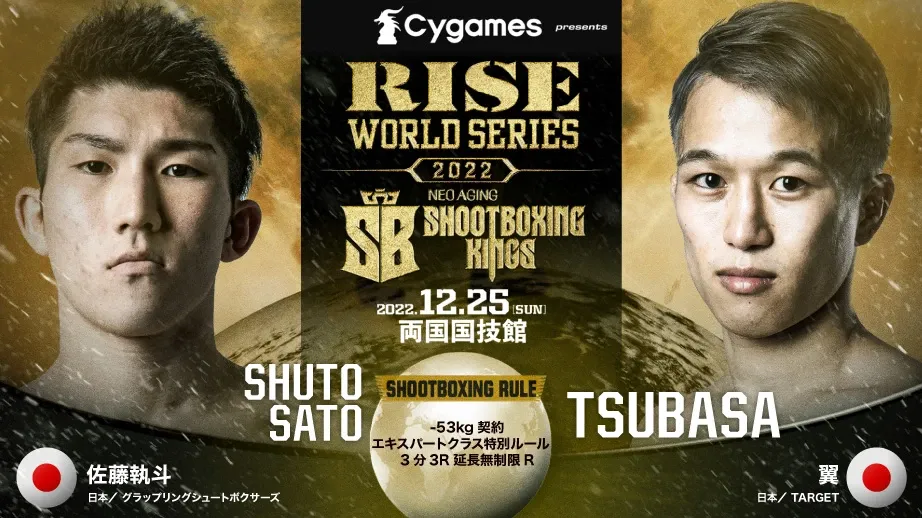 Tsubasa Kaneko will face the 33-fight veteran Shuto Sato in a Super Flyweight bout, following his upset decision victory over super-prospect Ryu Hanaoka this past month. His victory over Hanaoka shot Tsubasa up from the #12 place in the official RISE Super Flyweight rankings up to #2, only behind Kazane Nagai, who suffered his second loss to the current divisional kingpin Kazuki Osaki on that same night. A victory for Tsubasa here could position him as the next challenger to the throne, as Osaki has already taken care of all the other potential contenders.
Sato has had an up-and-down career up to this point, capturing the Shootboxing and World Muay Thai Council titles at his high points and going on lengthy losing streaks at his low points. An advantage for him here is the fact that the bout will be contested under the Shootboxing rule set, which he is more than familiar with. Successfully utilizing Shootboxing rules might just be the key to an upset victory for Sato.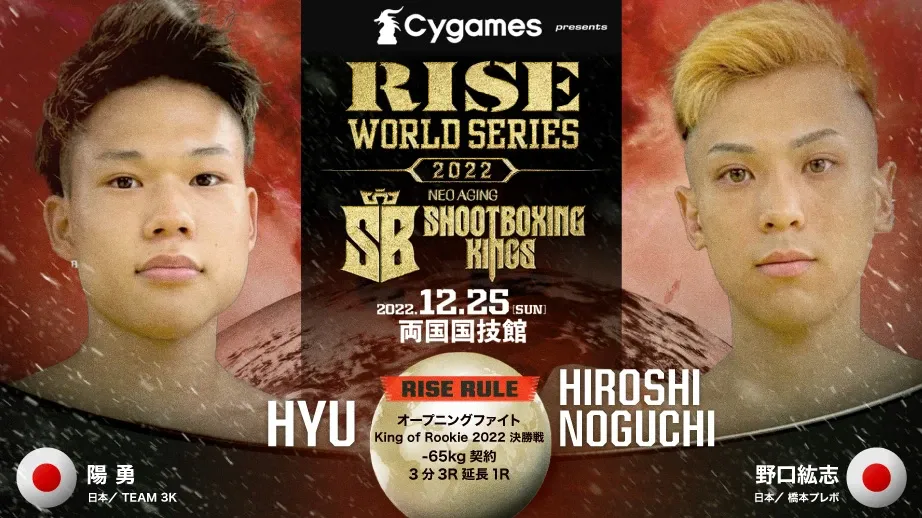 Of the remaining fights which have been revealed today, the most interesting one will see the undefeated Hyu face Hiroshi Noguchi in a Super Lightweight bout. Hyu captured the Japan Full Contact Karate championship at Light Middleweight in May of this year and four months later stopped Reo Wakabayashi with a head kick in what was his professional kickboxing debut. Noguchi holds a respectable 3 – 2 record and seems an appropriate level of opposition for Hyu's second professional appearance, although a win for him here could be his very own breakout performance as well.
The former Shootoboxing Super Lightweight Champion Kaito Ono was noticeably missing at the press conference, despite being one of the first fighters announced for the event. As 11 main card bouts and 3 preliminary ones have already been announced, it has led fans to wonder whether Kaito or his opponent, was forced to withdraw with an injury.
RISE WORLD SERIES / SHOOTBOXING-KINGS 2022 FIGHT CARD
---
MAIN CARD
65.0 kg: Kento Haraguchi vs. Zakari Zouggary
65.0 kg: Kosei Yamada vs. Petchpanomrung Kiatmookao
65.0 kg: Taiju Shiratori vs. Abdallah Ezbiri
63.5 kg: Hiroki Kasahara vs. Chadd Collins
52.0 kg: Manazo Kobayashi vs. Tessa De Kom
55.0 kg: Masahiko Suzuki vs. Shiro
46.0 kg: Koyuki Miyazaki vs. MISAKI
57.5 kg: Kotaro Yamada vs. Keisuke Monguchi
95.0 kg: Kenta Nanbara vs. Yuki Sakamoto
53.0 kg: Shuto Sato vs. Tsubasa Kaneko
70.0 kg: Yuya vs. T-98
PRELIMINARY CARD
53.0 kg: Naoki Kasahara vs. Takumi Hoshi
65.0 kg: Hyu vs. Hiroshi Noguchi
63.0 kg: Ryuto Shiokawa vs. Soma Higashi