Shiratori has a new opponent for his fourth fight of the year.
GLORY veteran Abdellah Ezbiri has withdrawn from his fight with the former RISE lightweight champion Taiju Shiratori due to an injury sustained in training, the promotion has announced earlier today. Ezbiri was expected to face the Japanese fighter on the main card of GLORY Rivals 4, which will take place on December 25, at the famed Ryōgoku Kokugikan in Tokyo, Japan.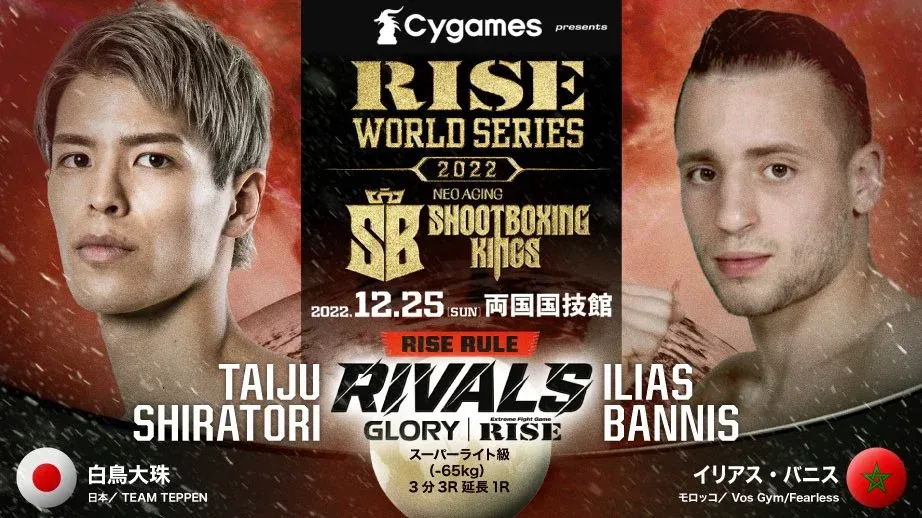 Shiratori will instead face promotional newcomer Ilias Bannis, who has stepped in as a short notice replacement. Bannis, the reigning ISKA European Lightweight champion, is most well-known for the four fights he's had with Enfusion. Although he won the first three fights he's had with the Dutch-based promotion, he suffered a decision loss in his sole appearance with them in September of this year. This will be by far the toughest opponent that the Vos gym representative has had so far in this career.
Shiratori will look to notch his third victory of the year, having won two of his previous three fights. He will enter this fight on a positive note, having overcome fan-favorite YA-MAN by unanimous decision in a 'Fight of the Year' contender at the October RISE World Series event.
As previously reported, GLORY Rivals will be headlined by a Featherweight bout between Kento Haraguchi and Serhiy Adamchuk, while a Bantamweight bout between Masahiko Suzuki and Shiro will serve as the RISE World Series headliner.
The entire event will be available for viewing worldwide.