GLORY returns to Rotterdam for their most stacked card of the year so far.
All fighters made weight, and the event will proceed tomorrow as planned with nine bouts at the Rotterdam, Ahoy in Rotterdam, Netherlands.
GLORY: COLLISION 5 will mark the return of fan-favorite Antonio Plazibat as he takes on his teammate, Tariq Osaro for the interim GLORY Heavyweight title in the headlining bout. The Croatian weighed in at 123.8 KG, while Osaro tipped the scales at 125.2KG.
Another interim title will be on the line, as Tarik Khbabez clashes with late replacement Mohamed Amine. Reigning Light Heavyweight champion Donegi Abena couldn't make it to the event due to contracting food poisoning. Even though the week has been turbulent, both fighters made weight and looked great on the scale.
Touted as the next Middleweight challenger for quite some time, Serkan Ozcaglayan finally has worked his way up the rankings again after his upset loss to César Almeida in October of last year. GLORY Middleweight champion Donovan Wisse will look to derail the hype-train of the heavy-hitting Turkish fighter, and make his second successful title defense.
In the last of the four title fights, Endy Semeleer looks to repeat his success against Jay Overmeer in a rematch two years in the making.
GLORY: COLLISION 5 will stream live on Videoland in the Netherlands at 20:00 CET.
Tickets are available at glorykickboxing.com/tickets.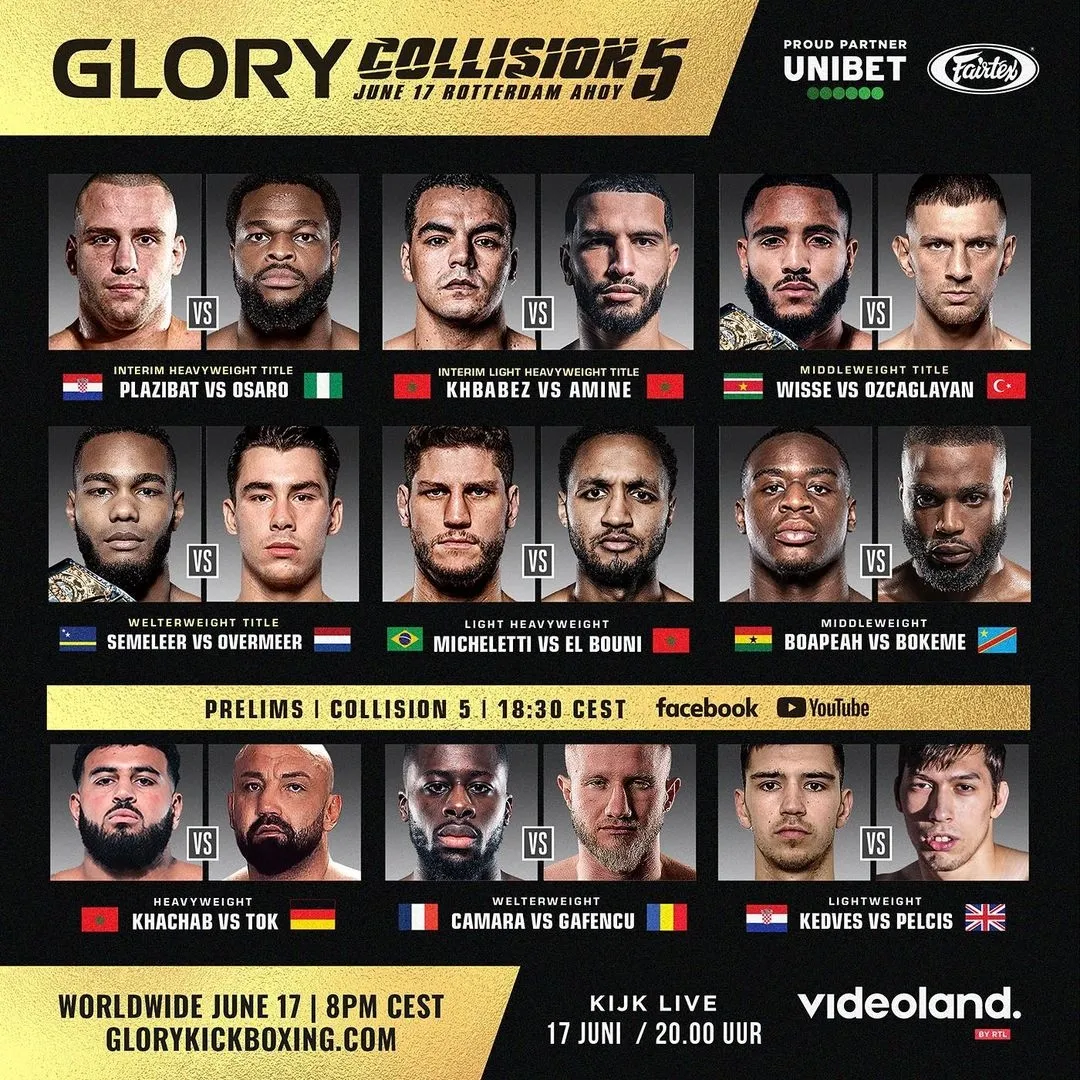 Visit glorykickboxing.com for more info on how to watch in your country.
COLLISION 5 WEIGHT RESULTS
---
MAIN CARD
Antonio Plazibat (123.8 KG) vs. Tariq Osaro (125.2KG) – Interim GLORY Heavyweight Title
Tarik Khbabez (94.9 KG) vs. Mohamed Amine (94.8 KG) – Interim GLORY Light Heavyweight Title
Donovan Wisse (84.7 KG) vs. Serkan Ozcaglayan (85 KG) – GLORY Middleweight Title
Endy Semeleer (76.8 KG) vs. Jay Overmeer (76.6 KG) – GLORY Welterweight Title
Felipe Micheletti (94.8 KG) vs. Ibrahim El Bouni (94.7 KG) – Light Heavyweight
Michael Boapeah (84.8 KG) vs. Ulric Bokeme (85.2 KLG) – Middleweight
PRELIMS
Nabil Khachab (144.9 KG) vs. Vladimir Tok (112.3 KG) – Heavyweight
Diaguely Camara (76.3 KG) vs. Eduard Gafencu (76.6 KG) – Welterweight
Andrej Kedves (69.5 KG) vs. Mareks Pelcis (69.2 KG) – Lightweight