GLORY 85 took place on April 29 at the Rotterdam Ahoy in Rotterdam, the Netherlands.
Another successful night for GLORY at the Rotterdam Ahoy. Endy Semeleer made his first successful title defense against long-time GLORY veteran Murthel Groenhart in the co-headlining bout. The centerpiece of the event was a 4-Man Heavyweight Tournament, which saw the huge 127 KG heavy Tariq Osaro come out on top.
HIGHLIGHTS
Heavyweight Tournament Final – Tariq Osaro def. Murat Aygün – After both fighters finished the semi-finals quickly, it seemed like both fighters were relatively fresh for the finals. Aygün struggled to bridge the gap with the bigger Osaro, whose big combs kept him occupied for most of the round. The power was too much, and Aygün had to sit down after a flush knee landed to his head. In the second round, Osaro started to gas out and Aygün was able to land some good punches until the dynamite in Osaro's hands send the Turk down once again. A fourth knockdown in the third round ended the fight due to the maximum number of knockdowns in a fight.
Endy Semeleer def. Murthel Groenhart – After a controversial win over Alim Nabiyev, Semeleer defended his Welterweight title convincingly against Murthel Groenhart. 'The Predator' became the prey for the reigning champ as he knocked his opponent down three times during the fight. His decisive title defense will silence the doubters and will bring attention to the upcoming rematch with either Nabiyev or up-and-coming Jay Overmeer.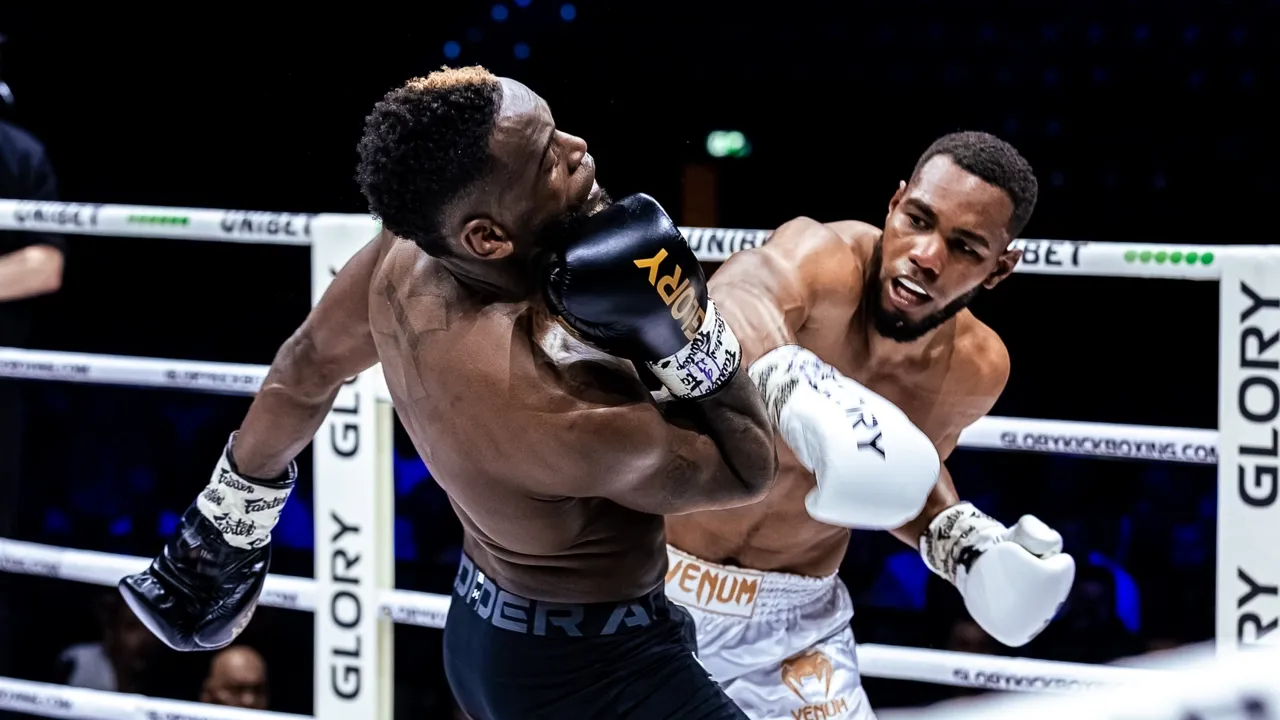 Jan Kaffa def. Berjan Perposhi – In a card full of Heavyweights it was the two Featherweight fighters that took the "fight of the night" title in the eyes of many fans. In a battle of rising prospects, it was Jan Kaffa that got the win after two incredible spinning-back fist knockdowns. The fight had everything - beautiful techniques, controversies, and an incredible show of fighting spirit!
Heavyweight Tournament Semi-Finals – The first Semi-Final showcased a new generation against old generation match up - the 38-year-old Jahfarr Wilnis took on 27-year-old Tariq 'Cookie' Osaro. As expected, Wilnis started slow with his characteristic forward-pressuring high guard style letting 'Cookie' take the initiative and thus giving the first round away to the Dutch-Nigerian fighter. The second round started better for Wilnis until Osaro unleashed his bombs. After putting Wilnis against the ropes, he started an astonishing 31-punch barrage before Jahfarr finally crashed to the ground, leaving the referee no chance but to wave off the fight.
The second Semi-Final was fought between two GLORY debutants, Enver Sljivar and Murat Aygün as a late replacement for Luis Tavares, who couldn't participate due to a bacterial infection. Murat showed to be a worthy replacement by making quick work of his opponent, knocking him down twice, which was enough to end the fight due to the tournament format.
GLORY 85 RESULTS
---
MAIN CARD
Tariq Osaro def. Murat Aygun – TKO at 2:08 of R3
Endy Semeleer def. Murthel Groenhart – Unanimous Decision
Mohamed Amine def. Michael Duut – Unanimous Decision
Jan Kaffa def. Berjan Peposhi – Unanimous Decision
Murat Aygün def. Enver Sljivar – TKO at 3:00 of R1
Tariq Osaro def. Jahfarr Wilnis – KO at 1:26 of R2
PRELIMINARY CARD
Nikola Filipovic def. Fabio Kwasi – Majority Decision
Brice Kombou def. Maksymilian Brastkowicz – TKO at 2:33 of R3