Takeru and Chatri's personalities clashed in a fiery press conference.
Earlier today, Takeru Segawa, former K-1 champion, and Chatri Sityodtong, ONE Championship's CEO, held a press conference in Japan, officially announcing ONE signing the Japanese kickboxing star to a multi-fight contract.
Takeru first ensured the attendants that he is ready for his June 24, ISKA world title fight against Bailey Sugden, which will still happen on ABEMA, as per his exclusive record-breaking $750,000 per fight deal with the network.
Takeru then officially confirmed the earlier report that he has signed an exclusive multiple-fight deal with ONE Championship. Takeru also noted, "I wanted to announce the signing from myself after my comeback fight on 24 June… unfortunately it was reported first," leaving out that Chatri was the one who announced it first on his Facebook page.
Takeru stated that he might no longer be the K-1 champion, but he competed in K-1 for almost his entire career and will compete in ONE as a K-1 representative. He commented, "ONE Championship is the place where the strongest champions gather, so I want to challenge myself at ONE Championship." He emphasized, "The biggest reason I signed with ONE is that the fighter I want to fight the most is in ONE." Takeru expressed his interest in leading a 'Japan against the world' event at ONE.
Chatri Sityodtong then joined the press conference. He stated, "Takeru is Japan's biggest combat sports superstar." Chatri acknowledged that despite having been in Japan for five years, ONE has failed repeatedly, but because he has "bushido blood" in himself, he will never give up, until ONE Championship is the biggest sports property in Japan. With Takeru, he believes that ONE could achieve that.
He then boldly proclaimed, "This moment of Takeru signing with ONE, is the biggest moment in Japan's martial art history." He then made an analogy comparing fighters who have been the best in Japan but only competed in Japan like Masato or Tenshin, to the Yomiuri Giants, while fighters who dare to compete abroad to be like Shohei Ohtani or Ichiro.
Chatri wasn't shy talking about the countries 'hometown decisions', "In Japan, Japanese fighters are favored in the judging… everyone in the world knows that Rodtang beat Tenshin." Interrupting his interpreter, Chatri passionately said in Japanese, "absolutely, absolutely, Rodtang beat Tenshin! But the judges were fooled! Everyone in the world knows that Japanese judges favor Japanese fighters."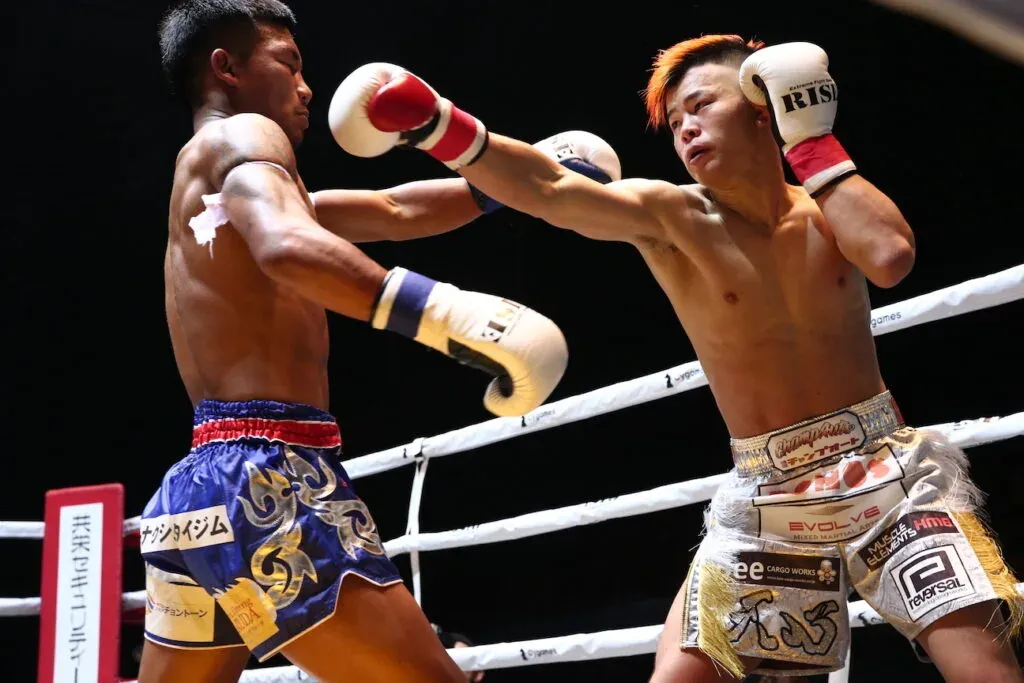 "There is absolutely no such thing in ONE! Because ONE is the best of the best. This is why I respect Takeru. This will make history in Japan! So Japanese fans, please cheer Takeru on!"
He added, "Takeru is the best pound-for-pound striker in Japan, and the biggest combat sport star in Japan right now... For me I have always been interested in Takeru, because we have the best fighters in the world in his weight division. Rodtang, Superlek, Jonathan Haggerty."
Chatri noted that this is the first time he met Takeru in person and Takeru is bigger than he thought. While Takeru said that Chatri is a very powerful person, and he respects fighters. He felt Chatri's passion and love for fighters. He added that this is the feeling that he never had from fighting in Japan.
When asked, Takeru didn't rule out the possibility of fighting Muay Thai against Rodtang, but it's more likely he'll stay in kickboxing. He admitted that because he signed with ONE, there might be difficulties in fighting with fighters from other organizations, but he will talk with Chatri if it is possible to compete with other Japanese fighters in Japan events.
It's not clear yet, which country Takeru will first compete in, but Japan seems likely. ONE Championship would have to consult with Takeru and ABEMA first.
In their final words, Chatri asked all of Japan to support Takeru for competing on the world stage and noted that he will bring honor and glory to Japan. Meanwhile, Takeru said that he will definitely win his next fight and prove that he is the best in the world in ONE championship.