The stacked event also features undefeated Ryusei Kumagai, three-division Lumpinee champion Ronachai and 10th ranked Marcos Rios.
This Sunday, 5 March 2023, KNOCK OUT returns to the Yoyogi National Gymnasium for its first event of the year, KNOCK OUT 2023 SUPER BOUT "BLAZE". The stacked event will be streaming for free on KNOCK OUT YouTube channel from 03:00 pm (GMT+9); the first 8 matches live and the rest of the card, starting with Panchan Rina's match, will be on an hour delay. For paying customers, the whole event will be available live on Samurai TV.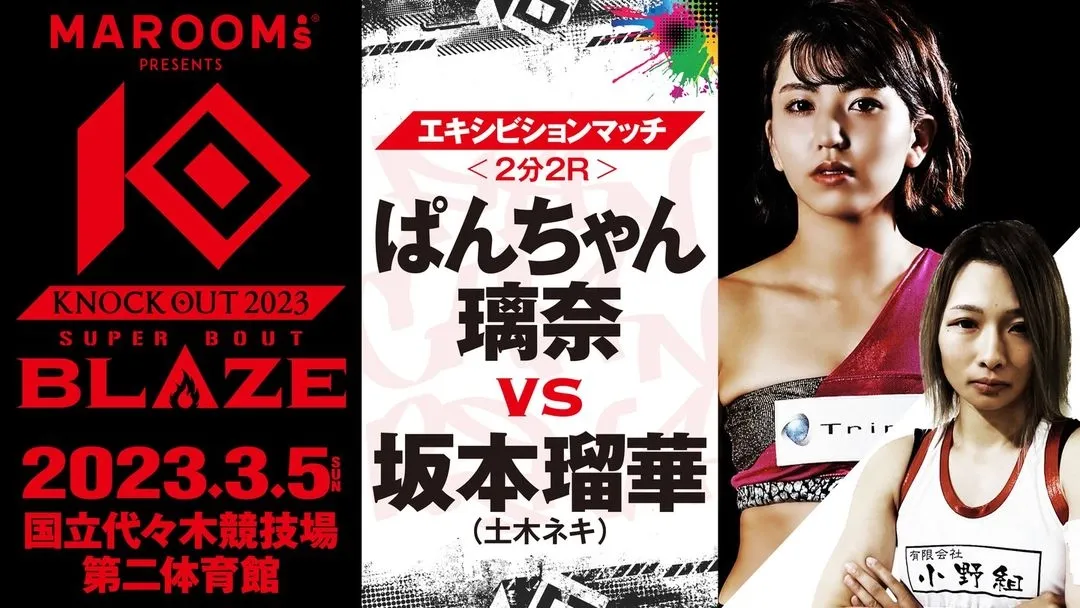 Controversial former KNOCK OUT Champion, Panchan Rina will be making her return in an exhibition bout, after having relinquished her belt in a tearful press conference earlier in February. Her comeback is marked by controversies, as she is still facing charges for her highly publicized fraud case when she was arrested last year for selling a poster with forged signatures of Tenshin and Takeru. Panchan Rina will fight Ruka Sakamoto, a regular at BreakingDown, Mikuru Asakura's popular one-minute one round martial art event. Sakamoto is coming out of a win at Breaking Down 7 in February.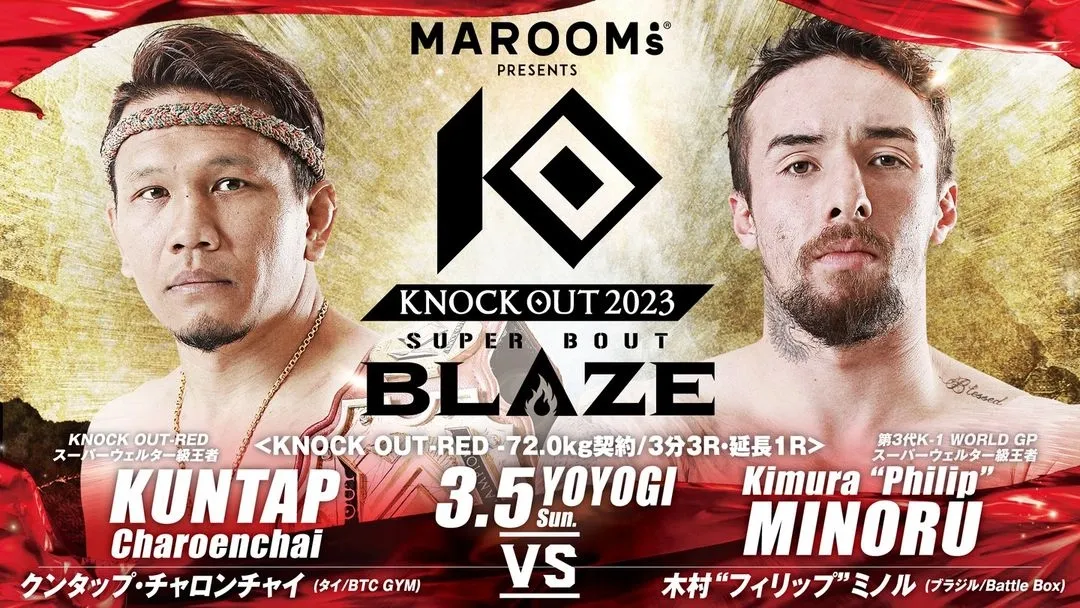 Former K-1 Super Welterweight champion and knockout artist Minoru Kimura is set to make his promotional debut in a non-title bout against reigning KNOCK OUT Super Welterweight champion and 42-year-old veteran, Kuntap Charoenchai. Kimura signed with the promotion in January this year, surprising many fans, as he earlier announced his intention to transition into boxing, having terminated his K-1 contract after a knockout defeat against Hiromi Wajima in December 2021. Kimura is coming out of a one-minute knockout victory over RIZIN star, Yusuke Yachi, in a mixed-rules bout at INOKI BOM-BA-YE x Ganryujima in December last year.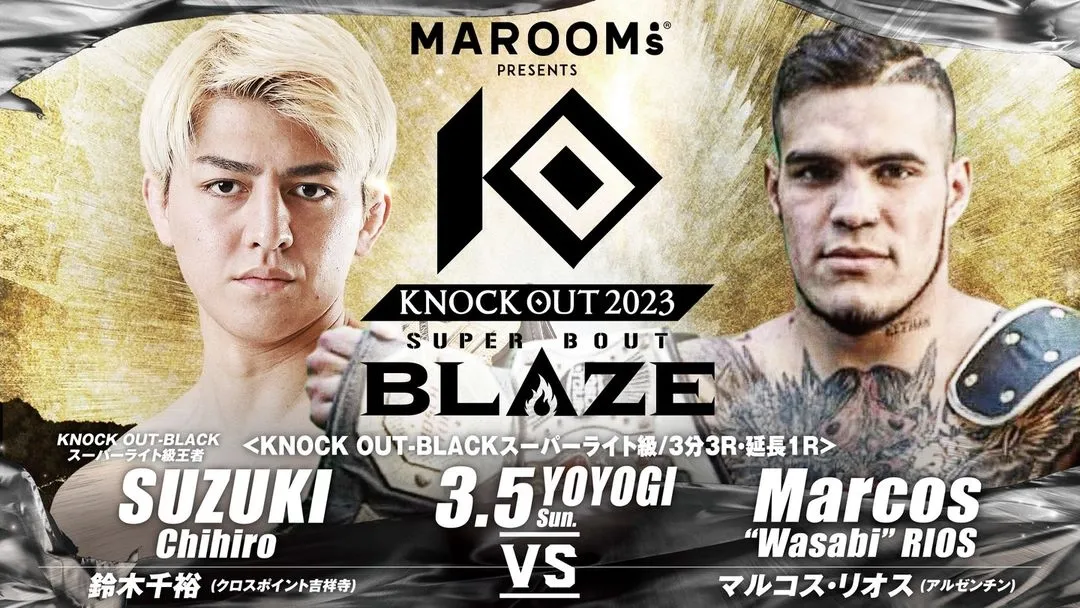 In a headliner, KNOCK OUT Super Lightweight King, Chihiro Suzuki, will face Marcos Rios, the 10th best 67.5 KG kickboxer in the world. Chihiro Suzuki is coming out of a breakout year, having gone on a 5-fight winning streak in 2022, including a win in a main event over RIZIN superstar, Ren Hiramoto. Marcos Rios last defeated No. 6 ranked GLORY Featherweight contender and Former Wu Lin Feng World 63 kg champion, Denis Wosik by closely-contested split decision in January this year, earning himself spot in the Beyond Kickboxing Rankings.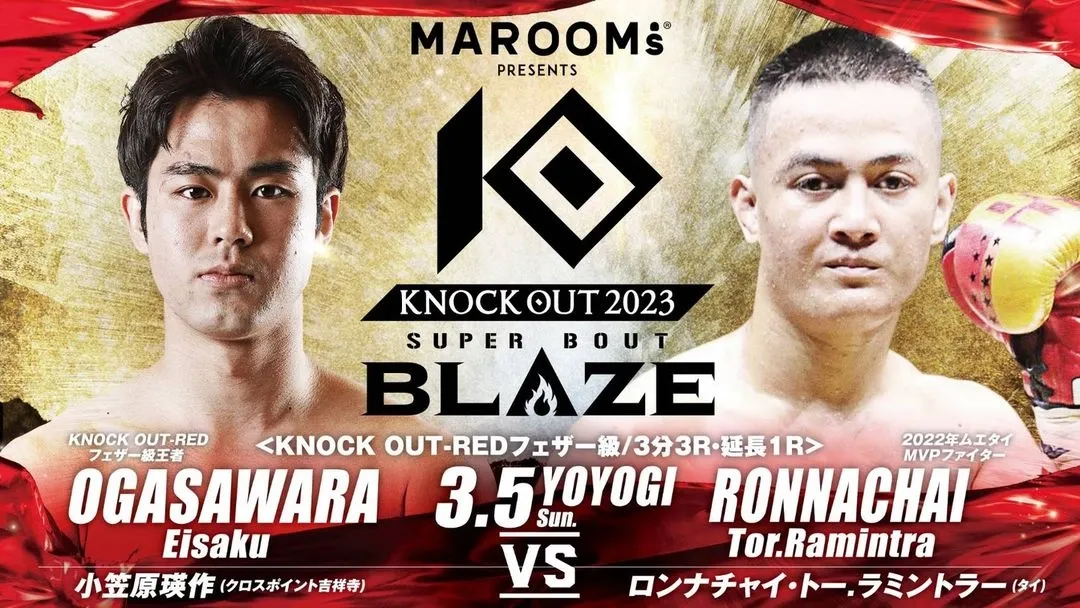 A huge month for high-level Thais in Japan. Kompetch, View & Phayahong are all competing in K-1 title fights in next week's K'Festa 6, but also KNOCK OUT has gotten themselves two stadium champions. Three-division Lumpinee champion Ronnachai will be looking to make an impression in what will be his international debut. The 25-year-old is considered one of the pound-for-pound talents in the sport, and is unbeaten in his last five fights. Welcoming him to Japan will be former KNOCK OUT champion Eisaku Ogasawara. A clash of styles, as Ogasawara is a fast starter with an aggressive style and has plenty of experience against Thai competition.
13-0 Ryusei Kumagai looks to continue his undefeated run against current Rajadamnern champion Phetsaensaeb Sor Jor. Tongprachin. The Japanese prospect is hailed as the next Tenshin Nasukawa by many, but has yet to make a significant step up in competition to meet those lofty expectations. Nonetheless, he has the speed, the technique, and the style to be the next big thing, and the Thai champion will put him to the test.