Three additional fights have been added to GLORY's first Mexico event.
Three GLORY ranked fighters will see action in the fifth iteration of the GLORY Rivals series, which will take place on January 28, 2023, at the Zamna Tulum in Tulum, Mexico.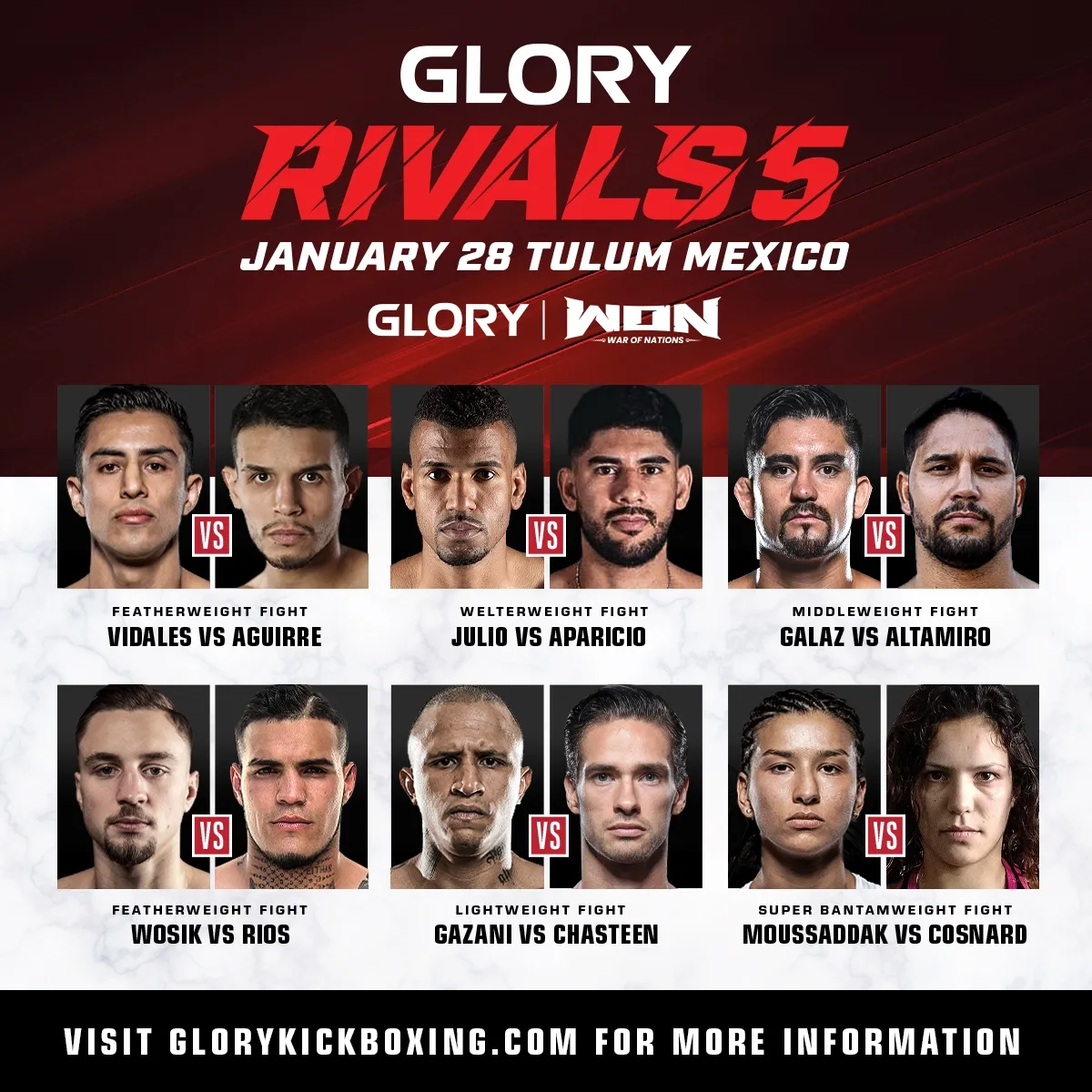 Former Wu Lin Feng -63 kg champion Dennis Wosik will face Argentine standout Marcos Rios in a Featherweight bout. After departing from WLF in early 2020, Wosik was forced into a two-year break from competition, with no events taking place during the COVID-19 pandemic. He made his debut with Glory in August of this year and quickly rattled off two wins, as he beat RISE lightweight champion Naoki Tanaka and promotional newcomer Mohamed El Mesbahi by unanimous decision. He is currently ranked #5 in the official GLORY Featherweight rankings and might be one or two victories away from a title challenge.
His opponent, Marcos Rios, will be making his debut with Dutch-based promotion. The 23-year old Rios has spent his career competing with various South American promotions, most notably with WGP Kickboxing, which has produced the likes of Alex Pereira, Cesar Alemida and Felipe Micheletti. Having amassed a reported 69-3-7 record between his amateur and professional career, he seems poised for a step-up in competition.
No. 8 ranked Glory Lightweight contender Bruno Gazani has been booked to face Nick Chasteen, who will be returning from a three-year-long break from kickboxing competition.
Gazani won his first three fights fight the promotion, as he was able to overcome Michael Palandre, Vlad Tuinov and Mohamed Hendouf, but had his streak stopped by the one-time GLORY Lightweight title challenger Stoyan Koprivlenski. He has only fought twice since then, suffering a decision loss to Salimkhan Ibragimov in late 2021 and rebounding with a decision win over Dragomir Petrov in July of this year. His fight with Chasteen will be his first GLORY appearance in over two years.
Nick Chasteen has been even less active than Gazani in the past three years. His last kickboxing bout, a second-round stoppage of Seijo Imazaki, took place in November of 2019. Although he's had no kickboxing fights since then, Chasteen has competed under amateur Muay Thai rules. The 'Golden Boy' took part in the 2022 USA World Games qualifiers, which were held in March. He was able to make his way to the finals, but was declared ineligible before they took place.
In the sixth and final announced bout of the evening, one-time GLORY Super Bantamweight title challenger Sarah Moussada will take on Giuliana Cosnard. Much like her countryman Marcos Rios, Cosnard's most notable fights have taken place under the WGP Kickboxing promotional banner, where she won the WGP 60 Flyweight Tournament title, her single most noteworthy performance so far.
Moussaddak will be more familiar to kickboxing fans. In October of this year, she challenged the reigning GLORY champion Tiffany Van Soest in a bout many felt she had won, despite the five ringside judges not agreeing. She will look to position herself for a second title shot with a dominant win against 'La Hiena".
GLORY RIVALS 5 FIGHT CARD
---
Abraham Vidales vs. Tomás Aquirre - Lightweight Bout
Ivan Galaz vs. Renan Altamiro - Middleweight Bout
Javier Paricio vs. Jonas Ferreira - Welterweight Bout
Dennis Wosik vs. Marcos Rios - Featherweight Bout
Bruno Gazani vs. Nick Chasteen - Lightweight Bout
Sarah Moussadak vs. Giuliana Cosnard - Super Bantamweight Bout